Nakhon Kitchen is one of the most popular Thai restaurants in Singapore which is known for being cheap, great authentic taste and is easily accessible!
Averaging at just S$10 per person, Nakhon Kitchen is a popular option for people who lives in the neighbourhood. We visited the nearest outlet in Kovan for a weekend lunch. We purposely arrived earlier to avoid the queue, but just not long after we got our table, the queue became incredibly long. Nevertheless, people are still patiently waiting without hesitation. From the queue, I know Nakhon kitchen got to be a damn good restaurant that people is willing wait for. So, if you are looking to visit Nakhon, be sure to arrive early.
The restaurant in Kovan is not very big but additional tables can be arranged outdoor. We ordered our favorite basil minced chicken ($6), Pandan leaves chicken ($6 for 4 pieces), red curry chicken ($8), seafood tom yum soup ($6), Thai style Kang Kong($6) and the famous Thai lemon squid hotplate ($20). Looks like we ordered a lot for 4 pax, but there were just too many dishes on the menu that I really want to try! The waiting time was about 10 -15 mins, with each dishes coming at short intervals.
Compared to the seafood tom yum soup which was not as sour as I expected, I am more impressed by the soup from the lemon squid hotplate. With a heavenly mixture of sour and spicy taste, this lemon squid reminds me of a lovely summer in Bangkok!
In Nakhon, you can also order authentic ice milk tea drinks. I did not take any photos as I was too busy relishing the gourmet!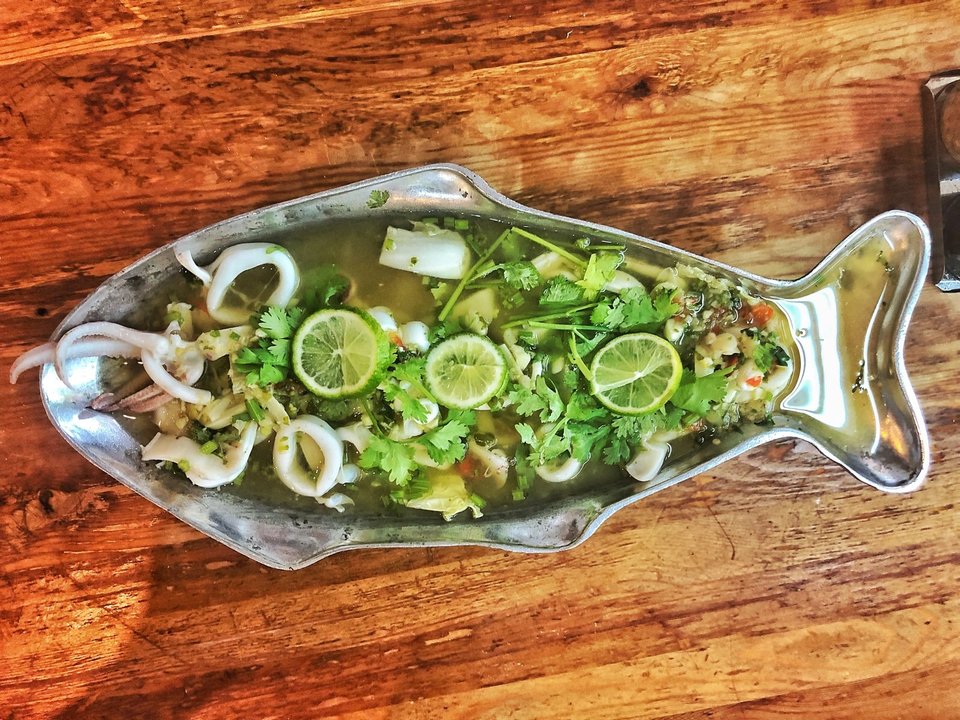 Nakhon Kitchen has several outlets around Singapore. Below are their addresses:
136 Bedok North Avenue 3 #01-166
Singapore 460136
Tel: +65 6245 5548
Daily: 12pm – 3pm, 5.30pm – 10pm
212 Hougang Street 21 #01-341
Singapore 530212
Tel: +65 6286 8785
Daily: 12pm – 3pm, 5.30pm – 10pm
Blk 529 Ang Mo Kio Avenue 10 #01-2371
Singapore 560575
Tel: +65 6451 1332
Daily: 12pm – 3pm, 5.30pm – 10pm
Quality of Food -

7/10

Customer Service -

7/10

Value for Money -

7.5/10

Atmosphere -

6/10
Summary
With its easy access and cheap price, Nakhon Kitchen is highly recommended as your everyday choice to relish the authentic taste from Thailand. However, in terms of atmosphere, do not have high expectation. It's a very humble neighborhood restaurant set up. Definitely not a good place for a romantic date. 🙂
Also, we noticed that even there is aircon installed in the restaurant, it was either not on or no effect at all. Eating a spicy Thai on a hot sunny day will not be a pleasant experience!
To sum it all, recommended for good & cheap Thai food in Singapore!