Vietnam is one of my favourite countries in South East Asia. I love the fusion of eastern and western culture as reflected in their exotic buildings, the light and healthy Vietnamese food made up of vegetables and seafood, and the hardworking & beautiful Vietnamese girls dressed in their traditional dress(ao dai). Among all cities I have been to in Vietnam, I think none can compare with the beautiful small fishing village Mui Ne that is inherent with its long sweeping bay and incredible sunset view in sand dunes. Get ready to embark on an exciting journey to Mui Ne, a hidden gem tucked along the stunning coastline of Vietnam. Picture yourself lounging on golden sands, riding the waves, and diving into a whirlwind of culture and adventure. In this Mui Ne travel guide, I'll share all the must-see attractions and experiences that await you in this coastal paradise.
---
How to Get to Mui Ne
You can either take the 4-hour train from Ho Chi Minh City or take the 7-hour Open Tour bus. There are many tour bus operators available. One of the most popular ones is Sinh cafe (Sinh cafe). You may book in advance, but there are also many agencies in Ho Chi Minh which you can purchase on the spot from. We bought the ticket on the spot from a bus company called Tam Hanh Travel. The price is around 6 USD for single trip. The experience was not bad and it provided quite a comfortable sleeping seat with aircon and WIFI. During the journey, there was intermittent rest allowing passengers to get off to relax.
---
Best Place to Stay in Mui Ne
With the booming of tourism, there is an increase in the number of resorts built. Some of them are luxurious resorts with great private beach. In general, the price is very affordable with and a night cost around $100USD on average. Here are some good accommodations that I recommend:
Sea Links Beach Resort (this is the place we stayed)
The Cliff Resorts and Cliff Residences
Lotus Village Resort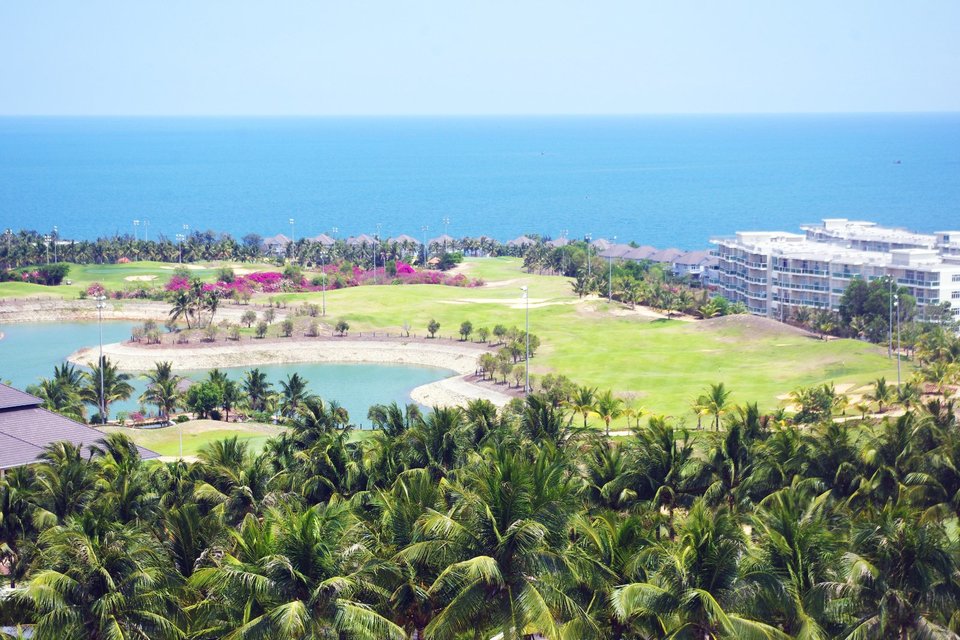 ---
Attractions in Mui Ne
Cham Tower at Mũi Né
Explore the Po Shanu Cham Towers perched high on a hill. These ancient towers whisper stories of the Cham civilization that once flourished here. Plus, the panoramic views of Mui Ne from up here? Absolutely jaw-dropping!
Mui Ne Harbor and fishing boats
Candy-colored fishing vessels bob gently in the waters where the ray of dawn light up the way back home of the hardworking fisherman.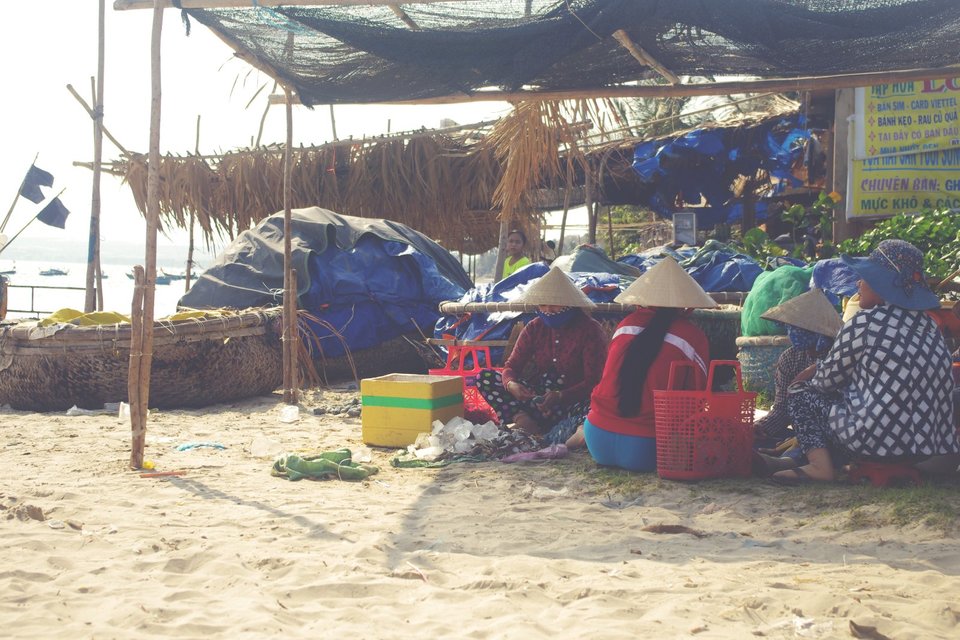 Mũi Né Fairy Stream
Ever walked through a stream that feels like it's straight out of a fairy tale? Brace yourself for the enchanting Fairy Stream. It's a shallow, ankle-deep stream that meanders through colorful rock formations. Dip your toes in the crystal-clear water and let the whimsical landscape transport you to a world of wonder. A clear stream flowing through the lush bushes, like an isolated secret garden. There are some local asking for very cheap tickets for entry. If you really do not want to pay, you can try to find another entrance to get in. It is not regulated formally.
White & Red Dunes
Mui Ne has something straight out of your wildest dreams – sand dunes! The White Sand Dunes and the Red Sand Dunes are like a desert oasis right by the sea. And oh, the magic happens during sunrise and sunset. The play of light and shadows paints a jaw-dropping picture you won't want to miss. Ready to laugh till your stomach hurts? Try sand sliding down the dunes – it's a thrill you'll cherish.
What to do in Mui Ne
Rent a motorcycle
Rent a motorcycle with only 5 USD per day and go anywhere you want to explore this adorable fishing village.
Visit Fishing Village and Indulge in Seafood Feast
Mui Ne's charm goes beyond the beach. Wander through the local fishing village and watch fishermen in action, casting their nets from their charming round boats called coracles. The village market buzzes with the catch of the day, offering you a chance to savor the freshest seafood ever. Don't forget to try the local delight, "Mui Ne Grilled Fish" – it's a burst of flavors you won't forget.
Try out the yummy seafood freshly off from the fishing boat with the most affordable price!
Rent a Jeep
There are many local tour agencies organising one day and half day jeep tour. The morning tour will lead you to see the beautiful sunrise and the afternoon tour will allow you to enjoy the amazing sunset. You can either join a private tour or join a group tour with other visitors. The former is slightly more expensive and the size of the latter is around 8-10. For us, after negotiation we have made it 4 USD per person in a half day afternoon tour. We recommend this as the best way to explore Mui Ne as: 1. although Mui ne is not big, walking is impossible to visit all places. 2. motorcycle is only good for those who can ride well (although the locals do not ask you for license, for your own safety we don't recommend taking any risk). 3. some roads lead to white sand dune is very bumping, jeep is good enough to get through.
NOTE:talk about places you want to visit, the tour is customisable.
Play water sports
With the 12-kilometre long sweeping bay, Mui Ne is a paradise for water sports particularly, it is famous for epic kitesurfing.Mui Ne's winds are your new best friend. If kitesurfing gives you a rush, this is your paradise. Newbie? No worries! There are kite schools by the coastline, ready to teach you the ropes. And if you're a pro, well, the waves are waiting for you!
Enjoy sunrise and sunset
As said, we do recommend you to visit and frolic along the sand dunes. One of the recommendation reason is the sunset and sunrise in the sands is breathtaking. Imagine the vast golden sands shine with tint pink glow when the sun begins to set, where the wave in the boundless sea on the near side is rolling gently. Everyone sits on the peak, savouring the serene moment after one day's craziness and challenge.
---
Mui Ne Travel Tips
Visit between December and April for the best weather – mild temperatures and less humidity.
Dive into local flavors beyond seafood – think pho and banh mi – at the local joints.
Remember to dress modestly and take off your shoes when visiting temples and traditional spots.
Don't book your one day tour from the hotel, but go to the main streets to negotiate with the local agencies directly. This is much cheaper.
Protect yourself from sun burn.
Don't take risk riding a motorcycle if you are not confident.
Remember everything is negotiable including open bus tickets provided you are buying it on spot!
The data plan bought is valid for the entire country including Mui Ne.
There are many Russian tourists and English is also widely used (although not that fluent)
USD is also accepted as currency in Vietnam
---
FAQs for visiting Mui Ne
What's the best time to visit Mui Ne?
The ideal time to visit Mui Ne is from December to April when the weather is pleasantly mild and less humid, offering the perfect conditions for outdoor activities and beach relaxation.
How can I get to Mui Ne from major cities like Ho Chi Minh City?
Mui Ne is easily accessible from major cities. You can choose to travel by bus, train, or even hire a private car for a comfortable journey to this coastal paradise.
What types of accommodations are available in Mui Ne?
Mui Ne offers a diverse range of accommodations to suit every traveler's budget and preference. From budget-friendly hostels to luxurious resorts with stunning beach views, you'll find plenty of options to rest your head.
What are the must-try local dishes in Mui Ne?
While seafood is a highlight in Mui Ne, don't miss out on savoring other Vietnamese delicacies like pho (noodle soup) and banh mi (Vietnamese sandwich) at local eateries for a true culinary adventure.
What's the significance of the Cham Towers in Mui Ne?
The Cham Towers, particularly the Po Shanu Cham Towers, provide a glimpse into the region's rich history and architectural heritage. These ancient towers were built by the Cham civilization and offer panoramic views of Mui Ne, making them a must-visit for history enthusiasts.
Is Mui Ne a good destination for water sports enthusiasts?
Absolutely! Mui Ne's consistent cross-shore winds make it a haven for water sports like kite surfing and windsurfing. Whether you're a beginner or an experienced thrill-seeker, there's something for everyone to enjoy in the water.
What's the Fairy Stream in Mui Ne all about?
The Fairy Stream is a shallow stream that winds its way through colorful rock formations, creating a fantastical and dreamy atmosphere. Wading through its clear waters, surrounded by vibrant hues, feels like stepping into a fairytale.
What's the nightlife scene like in Mui Ne?
Mui Ne's nightlife is vibrant and diverse. You can enjoy beachfront bars, lively night markets, and a bustling atmosphere after sunset. Sipping on exotic cocktails and mingling with fellow travelers is the perfect way to end the day.
Are there any cultural considerations to keep in mind while visiting Mui Ne?
When visiting temples and traditional sites, it's important to dress modestly out of respect for local customs. Additionally, remember to remove your shoes before entering such places.
What are the can't-miss experiences for a memorable Mui Ne trip?
To make the most of your Mui Ne adventure, be sure to catch the magical sunrise or sunset over the sand dunes, try sand sliding for an adrenaline rush, sample the delectable seafood, and engage in water sports to fully immerse yourself in the coastal charm of Mui Ne.
---
Conclusion
Mui Ne awaits you with its dazzling beaches, cultural treasures, and heart-pounding adventures. Pack your bags, set your wanderlust free, and get ready to create memories that will linger in your heart forever. Get ready for a journey that'll steal your heart – Mui Ne style!