Maldives has always been a dream paradise for many of us. Imagine you lying on the white sand beach, listening to the waves and reading a book while drinking a sip of cooling cocktail. That's the life we all look forward to!
We managed to spend 4 days 3 nights (All inclusive package) in Meeru Island Resort & Spa Resort in our first attempt to explore the Maldives. This time round our budget for the Maldives trip is pretty tight – around 4k SGD for two people. We came across Meeru Island Resort & Spa in Agoda and it turns out to be a good fit for our budget. The resort offers an all inclusive package, which is the deciding factor of our stay.
Surrounded by the beautiful blue lagoon, white sands and marine life, Meeru Island Resort & Spa is the only resort in the Meerufenfushi island.
Meeru Island is 1200 meters long by 350 meters wide – approximately 60 hectares.
We have a complimentary speedboat transfer to/from Ibrahim Nasir International Airport. The speedboat transfer time is around close to 60 minutes. When we reached Meeru Island, we were invited to the lobby where we were served our welcome cocktail while the staff assisted us with the check-in. After so, we hopped on the buggy to our villa.
We wanted to get closer to the beach and marine life, therefore we booked a jacuzzi water villa. Though it was more expensive, we never regretted the decision – money was well-spent.
Jacuzzi Water Villas are located over-the-water in the lagoon.
Check out this tour to see how our Jacuzzi Water Villa in Meeru looks like.
Just outside our water villa. Preparing to explore the island! The waves are quite strong!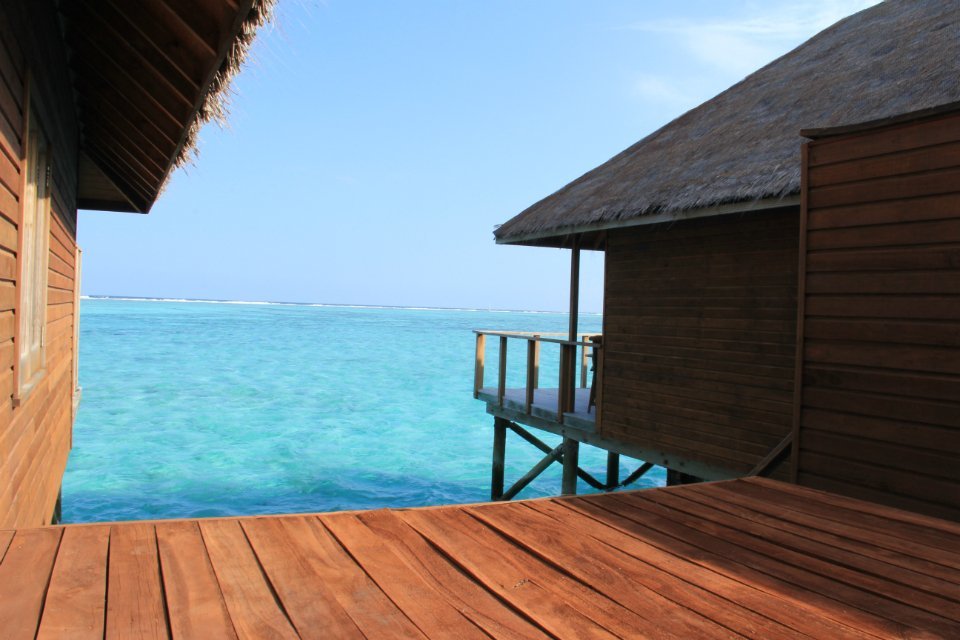 Ready & Go. Let the photos do the talking. Shall we?
This patch of white sand beach is just directly outside our water villa. Look at how blue and clear the water is! You can also see fishes swimming around in the water.
The view of our Jaccuzi water villa. This full stretch of houses are all water villas.
Can't wait to lie down on the beach and enjoy the sun & breeze. This is life!
Nicole posing around for photo shoots. Okay, the wind is pretty strong. Just look at the coconut trees.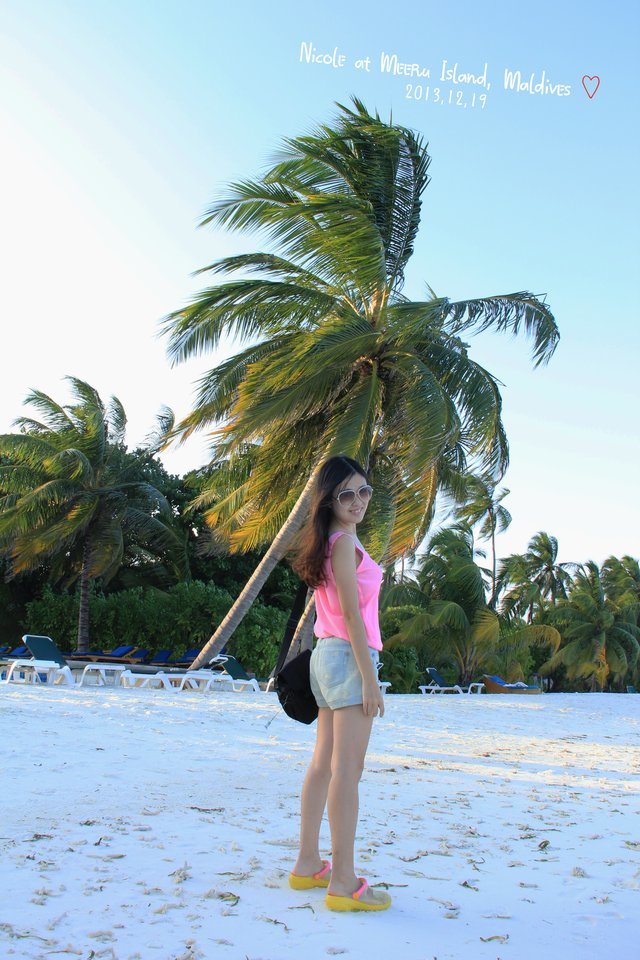 Always wanted to take photos of us holding hands.
One great thing about being in Maldives is that you are super close to marine life. Just look at this small white shark near the shore. Just for your info, small sharks are perfectly safe – they don't bite. We found some crabs too.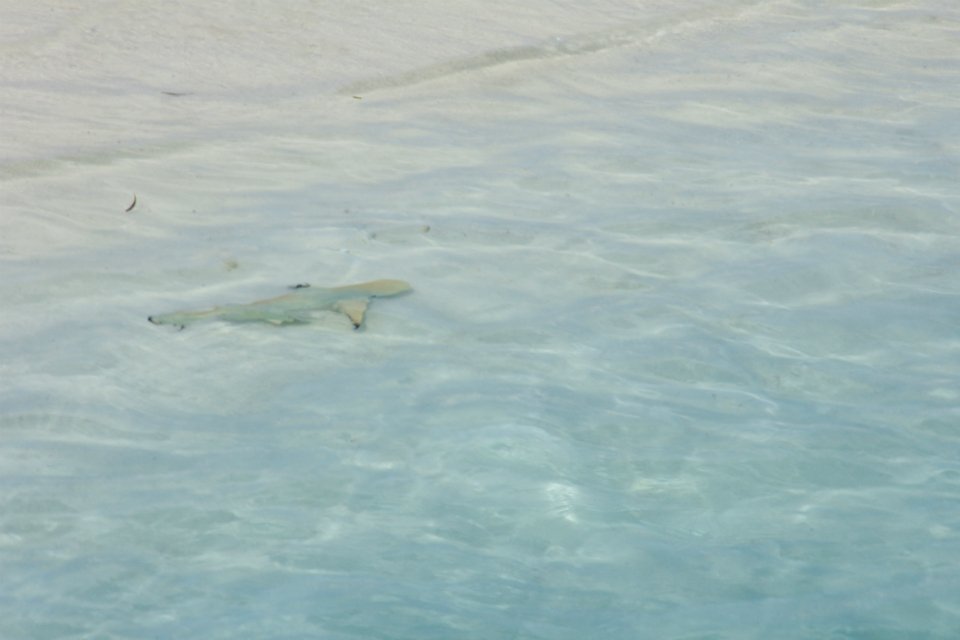 Not sure when Nicole took this photo. What am I daydreaming while looking at the sea.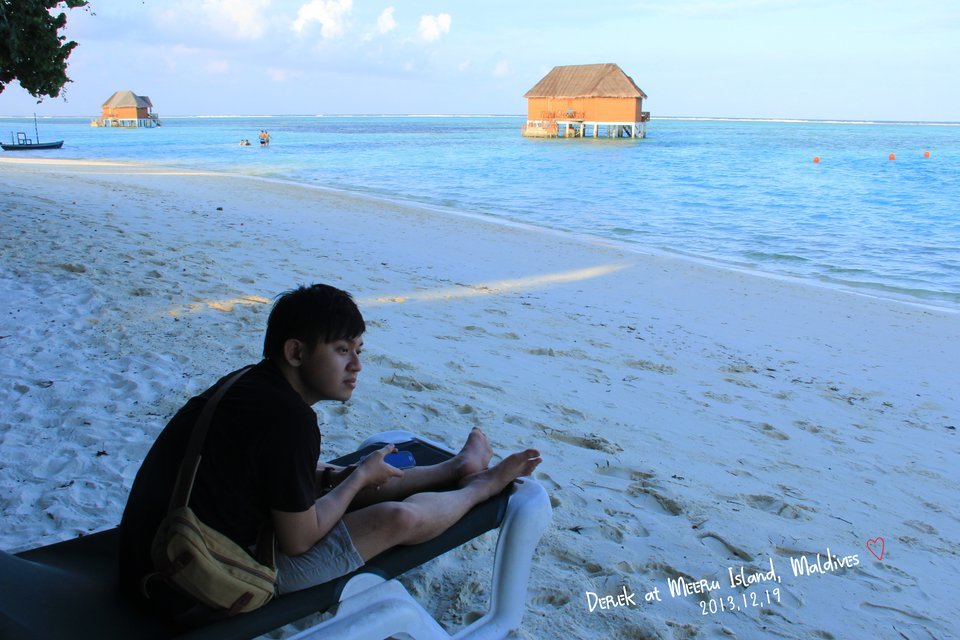 It seems that Meeru Island, the Maldives is also a popular place to get married. Look at this typical setup.
This is the bones of a whale for display. It's real btw dude.
Do you love beach volleyballs?
Or you might want to have a game of chess instead.
Sunset here is magnificent. The sunset here is exceptionally different from Singapore. It's peaceful and slow-paced. How I wish we can just retire and stay here forever.
This is our first time going into the deep blue ocean for our sunset cruise. We were served a cocktail while enjoying the sunset. The waters here are dark blue and the waves are super strong. It's a bit scary.
There are so many other activities you can do in Meeru Island.
Snorkelling
Scuba Diving
Water Sports
Golf, Tennis, Badminton
Spa
Island hopping & other excursions
And more
We enjoyed our 4 days 3 nights stay in Meeru Island Resort & Spa. If you are on a tight budget to visit Maldives, Meeru is definitely a good choice. Their all-inclusive plus package is very worth-it in our opinion.