As mentioned in the last post, one of the must to do activities in the fairy tale town Zermatt Switzerland is to take the Gornergrat Railway trip and enjoy the majestic Matterhorn closely.
Below is our handy guide to spend a great time with Matterhorn for people like us who are not professional hikers that can walk till the night falls.
Matterhorn Travel Guide 2023
About Matterhorn
The name Matterhorn means roughly "the peak in the meadows," from the German words Matte ("meadow") and Horn ("peak"). At 4,478 meters (14,692 feet), the Mountain is the only Western Europe's 12th-highest peak and straddles two countries, Switzerland and Italy. With its iconic jagged pyramidical shape, it has worked its way into Disneyland, and has been immortalised in the logo of the famous chocolate brand Toblerone.
Ticketing
We recommend you to buy the ticket one day in advance (actually a ticket is valid for 10 days from the date bought) and get on the train earlier morning the next day.
Full Price (summer):114CHF, Swiss Travel pass holder can get half price. Cheaper if buying for partial trip.
Timetable
To avoid crowd of packaged tour, we recommend you to catch the 7 AM or 8 AM train.
Afterwards, trains start at 830 AM will set off every 20 mins. The whole journey is around 33 mins only.
Route
Zermatt – Findelbach – Riffelalp – Riffelberg – Rotenboden – Gornergrat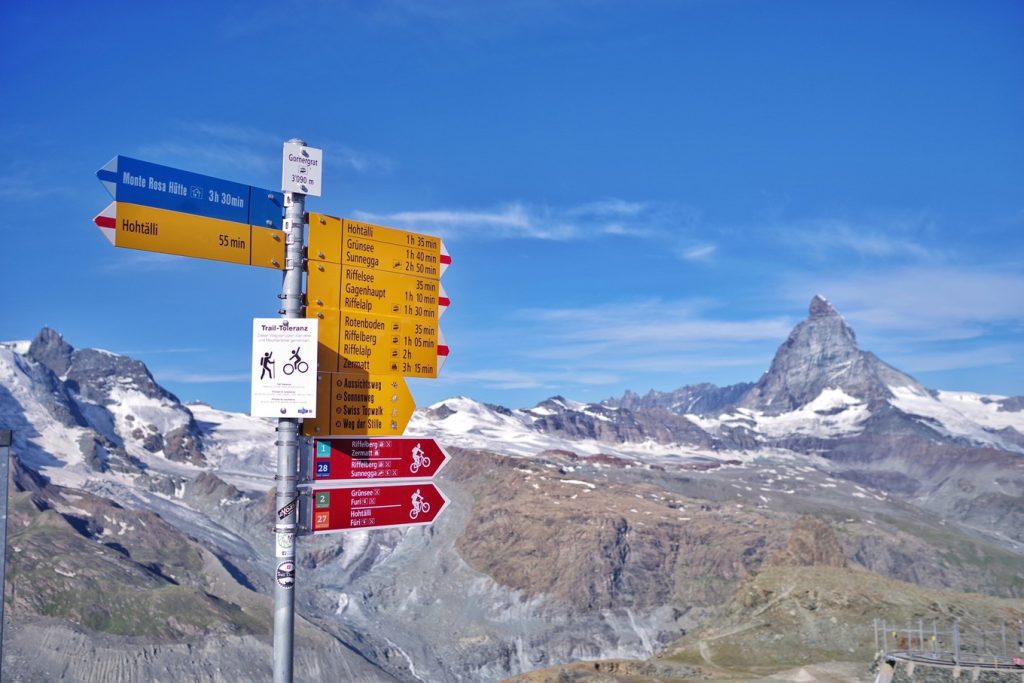 Gornergrat: even during summer time, visitors can still enjoy best panoramas in the Swiss Alps. Because of the high altitude and low temperature, the mountains are still coated with white snow.
Rotenboden: normally under a stone bridge near the station, you will see herds of black-neck goats typical in Zermatt. Then a 5 mins walk will lead you to Riffelsee Lake, the Matterhorn's mirror image.
Hiking route
If you are a great fan of hiking, here are two famous routes for your choice. Enjoy the scenic view!
Rotenboden – Riffelsee – Riffelalp; ca 30 mins
Rotenboden – Riffelsee – Riffelberg – Riffelalp; ca. 1h 10 mins
Tips
summer is hot, do remember to apply sunblock lotion and wear a hat.
be sure your body is ok at such a high altitude, take a rest whenever you needed.
keep your train ticket handy as they will check it out at any time.
it's recommended to bring some finger food or water along with you.
to enjoy mountain view, remember to sit on the the right side of the forwarding train.
take a coat with you, as it's a bit cold at the top.
Others
Website: