It's day 3 of our taiwan trip! Since both Jiufen and Pingxi need to transit from Ruifang, we decided to visit the two places together in two days (one for each). After a simple and fulfilling breakfast in hotel, we depart for Ruifang from Jiufen. The bus to Ruifang is just on the opposite side of 711. Upon arriving Ruifang, the first thing we go is to store our luggage in the train station.
Storing Luggage
There are two ways you can store your luggage. One is to store it in the luggage house where you need to pay around 80 nt per day. The other is to store in the locker with 20nt /2 hours. Note that the locker only accept coins.
Pingxi Railway Ticket and Timetable
The ticket can be purchased at Ruifang station at 80 nt per person. Before you start your journey, make sure that you get the timetable of the train so that you won't waste time waiting. On average, there will be train every hour at each station.
[mks_col] [mks_one_half]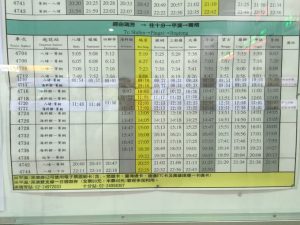 [/mks_one_half] [mks_one_half]
[/mks_one_half] [/mks_col]
Pingxi line is a popular 'railway' attraction in new Taipei city. It was brought to tourist attention by the movie You are the Apple of My Eyes in which the main actor and actress were releasing a sky lantern in Shifen. As you can see from the ticket above, there are many small stops along the line. Among them, Jingtong, Pingxi,Shifen and Houtong are the most recommended ones.
Jingtong
After about 1 hour journey on the train, we alighted at Jingtong, a town which used to be famous for coal mining.  After the government began to import cheap coal, its coal mining industry went on a decline. And now it has somewhat brought back the prestige not because of coal mining but because of the coal mining history and the nostalgic feel. There is an old street that runs through the entire town. Along the street, you can see the famous Hongbao miner's food court (红宝矿工食堂) where you can try the miner's binding meal (100nt),  the wooden Jingtong train station which is also one of the Top 100 Historic Century-old Buildings in Taiwan, the Railway Story House and a lot of other stores selling old-fashioned grocery and souvenirs.
[mks_col] [mks_one_third]
[/mks_one_third] [mks_one_third]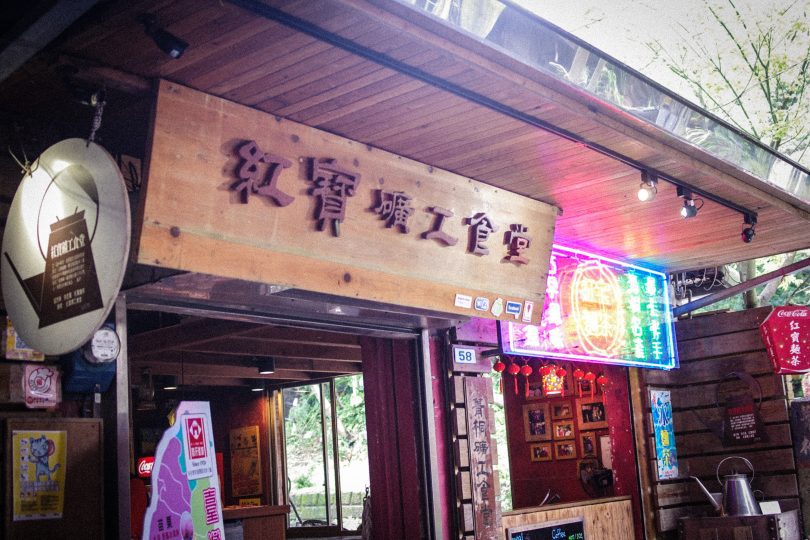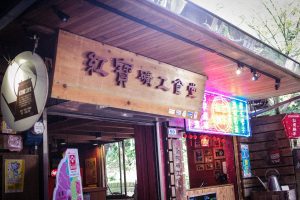 [/mks_one_third] [mks_one_third]
[/mks_one_third] [/mks_col]
In addition, you can also purchase a bamboo roll (许愿竹) with 40 nt to write down your heartfelt wishes and hang it at Jingtong Train Station. Walking around, I am totally indulged in her unique charm and nostalgic feel and cannot stop taking photos with every little thing of her.
Pingxi
Pingxi is well-knowned for its Sky Lantern's Festival. Every Chinese New Year, there will thousands of Chinese traditional lanterns being released to the sky, like the countless stars dispersed in the universe which lights up the night. It is said that people release sky lantern to signal safety at the time when there are many gangsters.
We went there during off-peak season and thus there were not many visitors. This is actually better for taking a good photo exclusively! There are many stores selling sky lantern than in Pingxi with price varying from 150 nt. Write down your wishes using brush and black ink, release it by lighting up the fire inside and then see it flying up in the sky. Simple and romantic, isn't it?
[mks_col] [mks_one_third]
[/mks_one_third] [mks_one_third]
[/mks_one_third] [mks_one_third]
[/mks_one_third] [/mks_col]
Shifen
Shifen becomes famous after the movie You are the Apple of My Eyes. Although we went there during off-peak season, the place was still full packed with tourists. People moved back by back and you even could not take a photo properly. Nevertheless it's really a busy and dynamic street selling delicious street food, souvenirs and cafe. Here, there are more stores selling sky lanterns but since it's too crowded, I won't recommend to release the sky lantern here.. In addition, you can also go visit the historical Jingan suspension bridge and Shifen waterfall. Just like Jingtong, Shifen used to be a coal mining town too.
[mks_col] [mks_one_third]
[/mks_one_third] [mks_one_third]
[/mks_one_third] [mks_one_third]
[/mks_one_third] [/mks_col]
Houtong
Houtong is a small village. It got its name initially for the monkeys found there (Hou means monkey in chinese). Unfortunately now there are no more monkeys any more but instead, this village is famous for cats now. Since 2008, local cat lovers begin to build a warm house for those abandoned cats in Houtong. It is also one of the top 6 places CNN recommend to see cats.
[mks_col] [mks_one_third]
[/mks_one_third] [mks_one_third]
[/mks_one_third] [mks_one_third]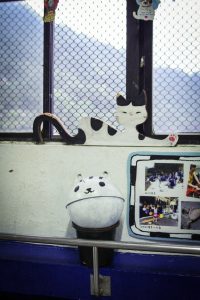 [/mks_one_third] [/mks_col]
The moment you aligned from the station, you will be amused by the adorable cat figures along the overline bridge. Because of the drizzle, we could not see hundreds of cats, but we do see a lot of adorable cats pleasingly wandering around. With a dedicated shelter, playground and painting wall, it's no doubt that those cats enjoyed their life like carefree princesses. In addition, the view from the cat village is also amazing especially after rain.
Tips & Travel Hacks For PingXi Attraction:
Visit Pingxi on weekdays when it's not that crowded.
Begin the journey with the last stop Jingtong all the way back to Houdong which can help avoid crowd.
Have your lunch at Jingtong or Shifen. For stations where you will have lunch, plan 2 hours' stay and for the other stations one hour is enough.
Release sky lantern in Pingxi rather than Shifen during off-peak season to avoid crowd
The recommend time to visit Pingxi line is at least 8 hours round trip from Taipei.
Do remember to store your luggage at Ruifang train station instead of dragging it all the way.