As Nicole and I stroll along Liang Seah Street to uncover new Chinese restaurants to eat and review, we came across this small Sze Chuan restaurant called Kuan Kuan and decided to give it a try. Popular among the PRCs in Singapore, Kuan Kuan Spicy Hotpot and Nourishing Soup serves a variety of authentic Sze Chuan food. When people mention Sze Chuan food, the first thing that comes to our mind is the spicy food and lots of chillis, and this is true! Before visiting a Sze Chuan restaurant, always be prepared!
With her hometown in Chongqing, Nicole is excited to see if Kuan Kuan is up to the true Chongqing's standard. Personally, I like restaurants with a mascot because that bring out its uniqueness. Kuan Kuan's mascot is a chubby chef character who know some kungfu? I suppose.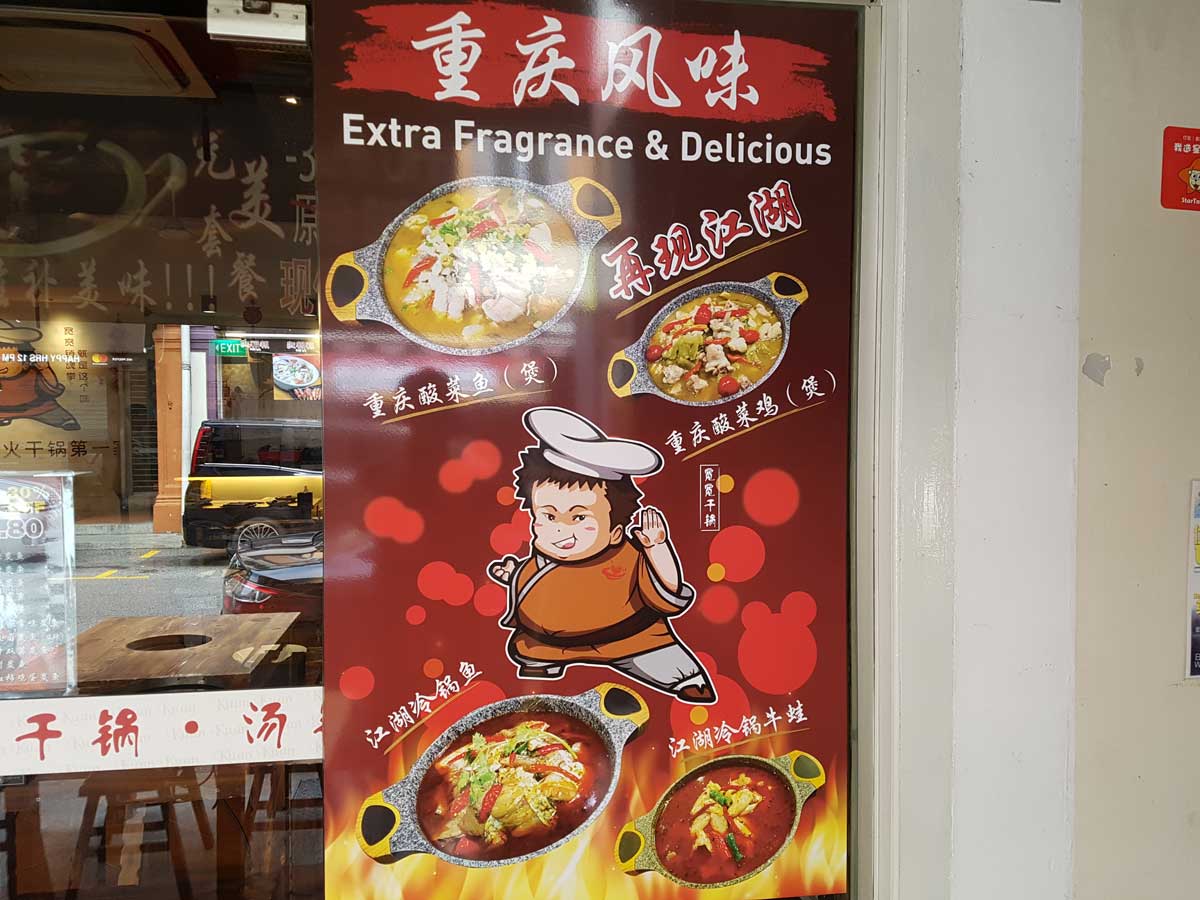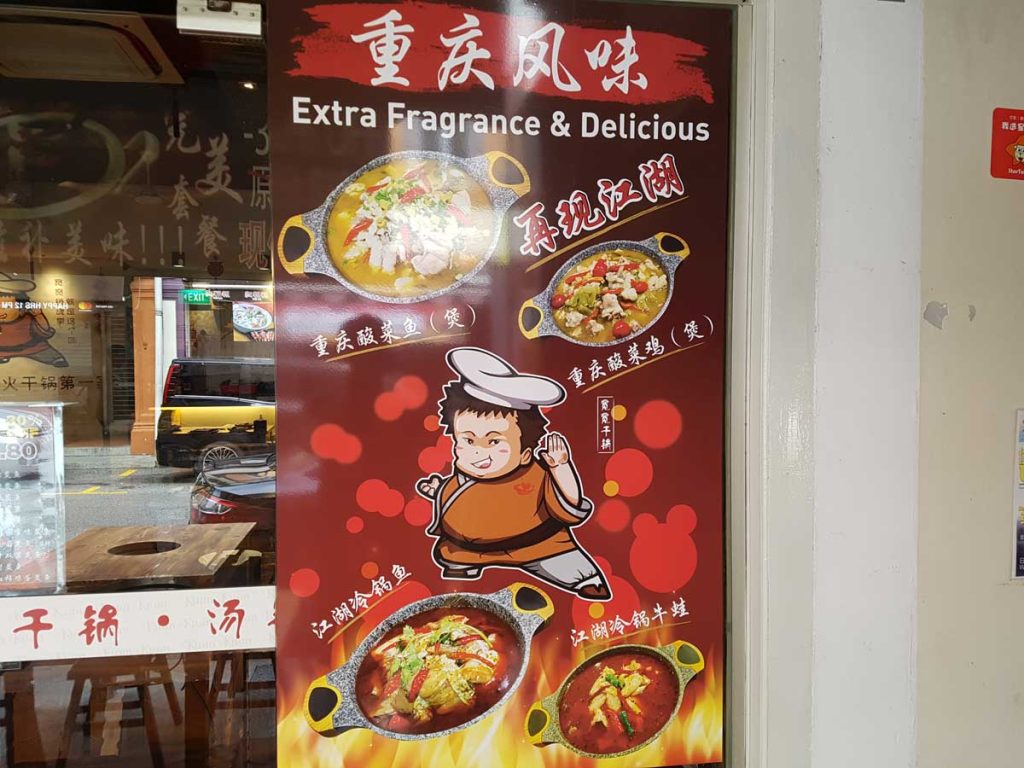 The interior consists of artistic panda-painted walls and wooden tables & chairs like the ones in Ke Zhan (客棧) or inns in ancient China. The restaurant is also air conditioned. At around 12 PM on a Saturday, the restaurant is still not yet packed with customers. We are one of the first customers.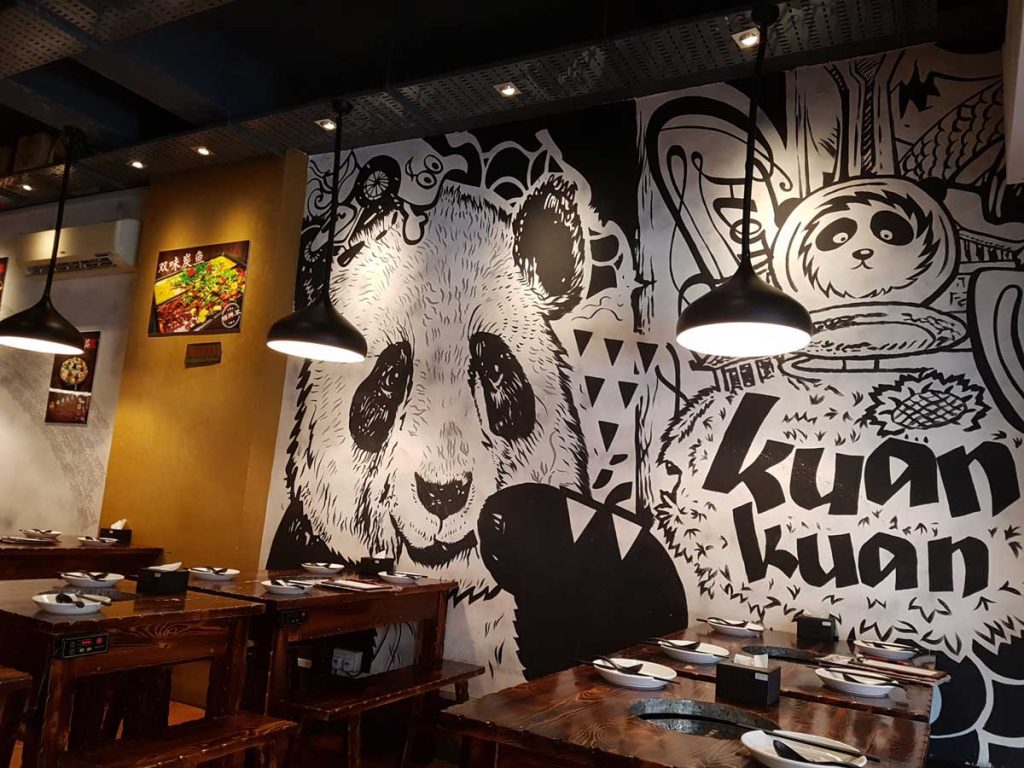 Kuan Kuan has their own personalized plates and utensils.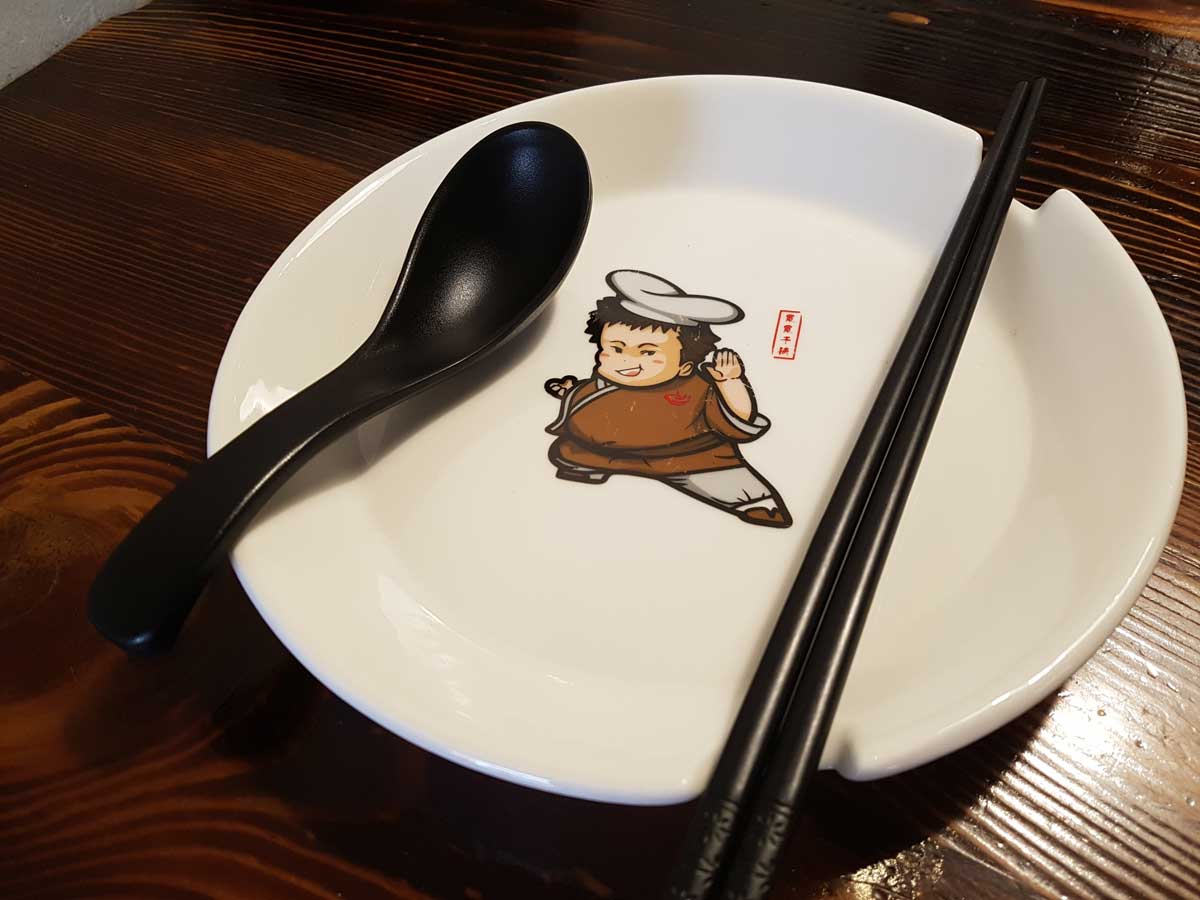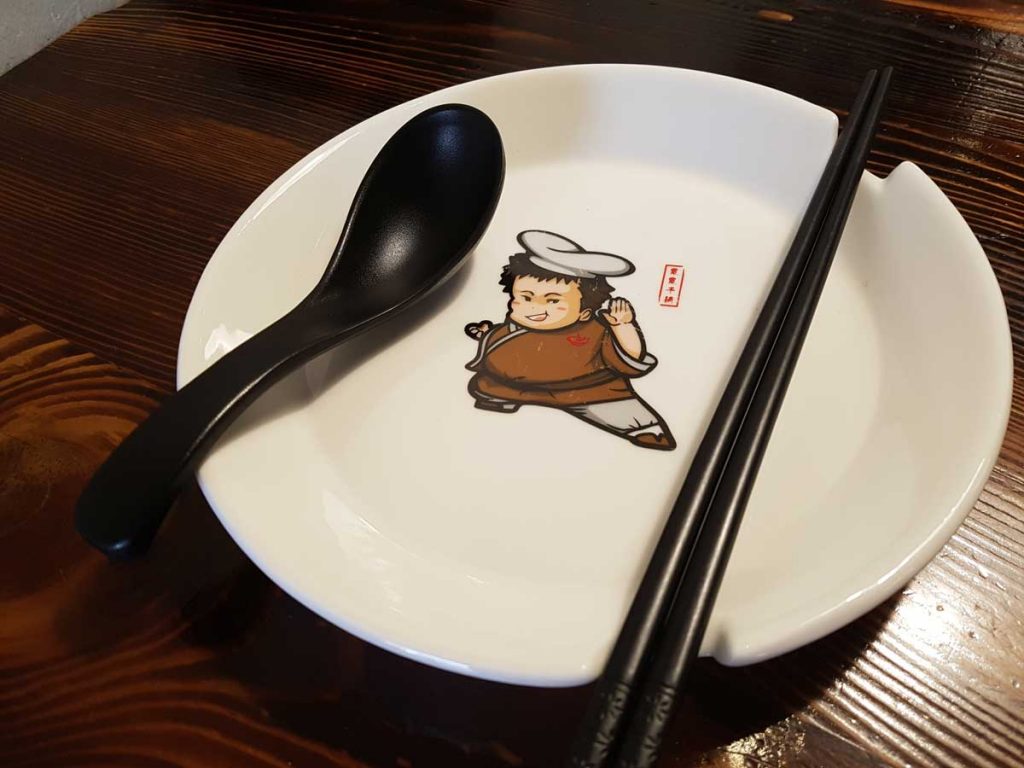 As it's just the two of us, we decided to order a Spicy Chicken & Pork Intestine Gan Guo (干锅) only, in case we can't finish the food. For your knowledge, Gan Guo (干锅) is a type of Grill and Griddle cooking style which is popular in Sze Chuan. Basically, you put chicken or another meat and marinated in chili and spices, then you grill it on a hot plate and serve.
Kuan Kuan's Spicy Chicken & Pork Intestine Gan Guo is pretty up to standard. The dish comes with ma hua (fried dough), chicken meat, pork intestines, chili, french fries, potatoes, onions and more. As expected, the spiciness is there! Even I, who self-acclaimed as someone who can take spicy food, find it super spicy. If you can't take spicy food, you may want to consider asking the waiter/waitress to reduce the spicy level when you order. Even though we ordered just this Gan Guo and a bowl of rice, we couldn't finish the food.
I recommend ordering this ice lemon tea brand called "Bing-Hong Cha". The drink is nice and refreshing and is a great combination when you take spicy food. Amazingly, you can find this Bing-Hong Cha drink in almost every Chinese-styled restaurant in Chinatown. Seems like it's popular among customers.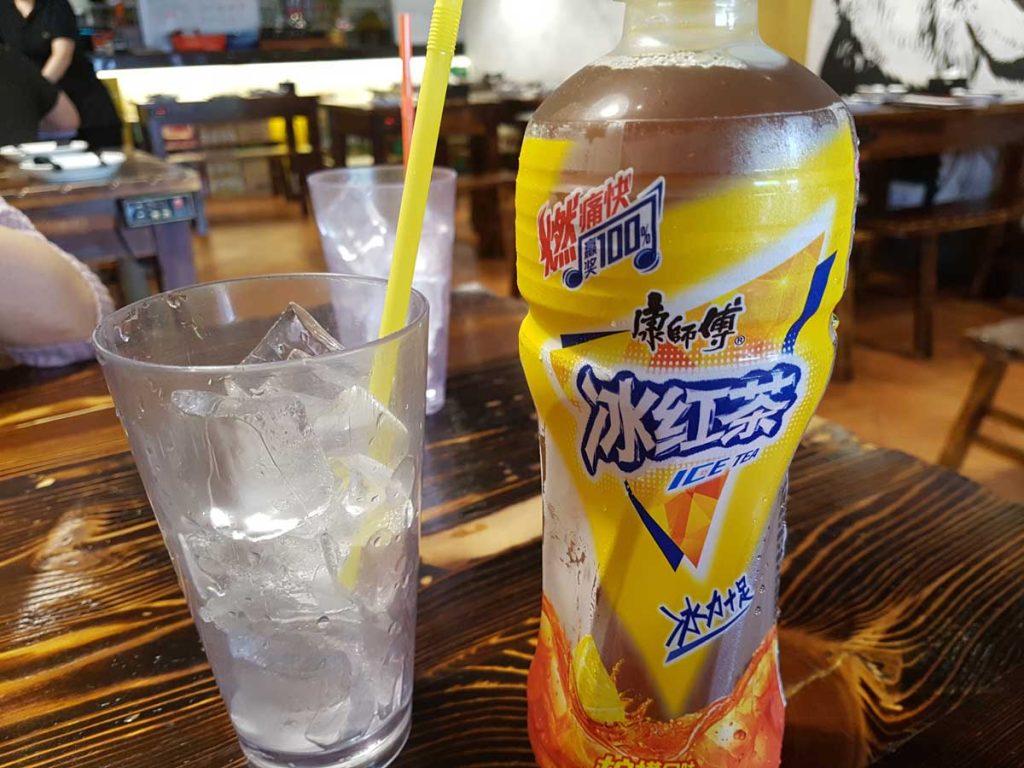 Spicy Bullfrog Gan Guo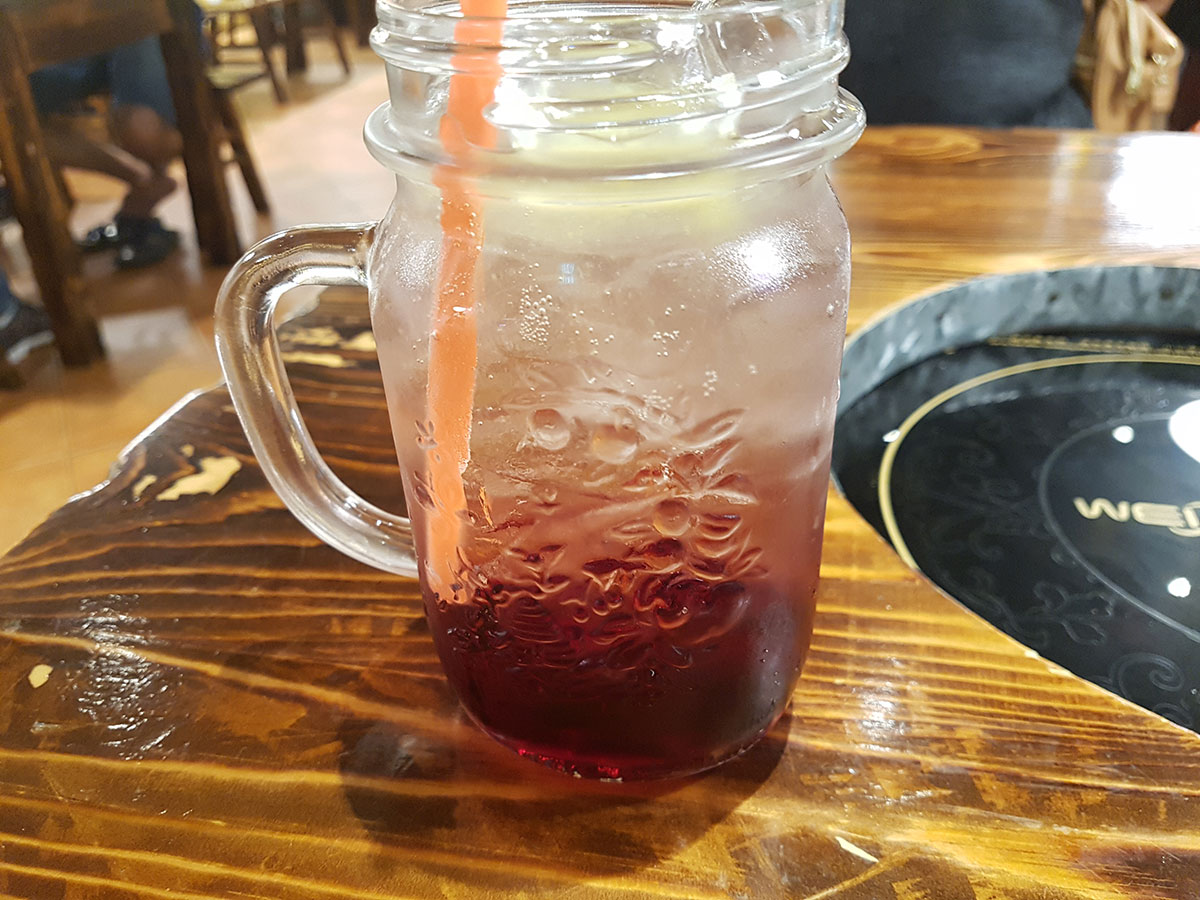 Getting To Kuan Kuan Spicy Hotpot & Nourishing Soup (宽宽干锅·汤锅)
Address: 32 Liang Seah St, Singapore 189053
Tel: 6338 4148
Opening hours: 11AM–11:30PM
Quality of Food -

7.5/10

Customer Service -

7/10

Value for Money -

7.5/10

Atmosphere -

7/10
Summary
Overall, Kuan Kuan serves quality Sze Chuan food at pretty reasonable prices. The food serving is big and even though the Gan Guo we ordered is quite spicy, I can't stop myself eating it. I will definitely be revisiting to try out their other dishes, maybe their nourishing soup next.