Kou Bao Chuan Chuan Xiang or Kou Bao Yummy Sticks Hotpot (口爆串串香), an ancient Chinese Jiang Hu (江湖) themed restaurant, is the latest addition to the Chinese restaurants you can find in Bugis Cube. The shop is greatly visible and is located on level 1 of Bugis Cube, just along the road. When I first heard about Kou Bao CC, I am quite curious as I do not know what exactly is "江湖" (pronounced as Jiang Hu) Chinese cuisine? After asking Nicole, my understanding now is that Jiang Hu cuisine consists of a wide variety of different Chinese dishes and that Chong Qing Mala hotpot is just one of them.
Enjoy Mala hotpot with skewers, drink up with brewed wine/beer, while mingling with friends in a cosy, atmospheric restaurant – This is dining the experience Kou Bao CC wants to deliver.
Trying and reviewing new Chinese restaurants (especially Chong Qing themed) is one of the common weekend activities for Nicole and me. Partially, this is due to that fact that Nicole's hometown is Chong Qing. Excited about the launch of Kou Bao Chuan Chuan Xiang, we made our visit on a Friday night after work. Due to its popularity, it is definitely recommended to make a reservation in advance to prevent disappointment.
As you enter the restaurant, you can see an ancient Chinese themed interior concept. There is a large projection on the wall showing a video clip of a Chinese village, and you can find a large refrigerator displaying a huge variety of skewers at the far end of the restaurant. The rows of Chinese wine bowls and bottles on the shelves makes one really feels like drinking up. Not a bad place if you are finding a place to chill out with your friends with some wine and spicy skewers!
As for the size of the restaurant, it is smaller than expected. However, I believe there is outdoor seating as well. Being one of the first customers via reservation, we are lucky enough to secure a table.
Here comes our Mala hotpot. We selected a Mala and tomato flavored soup base for our hotpot. (A spicy and a non-spicy one). Serving speed for the hot pot is quite reasonable – It comes shortly after 15 minutes.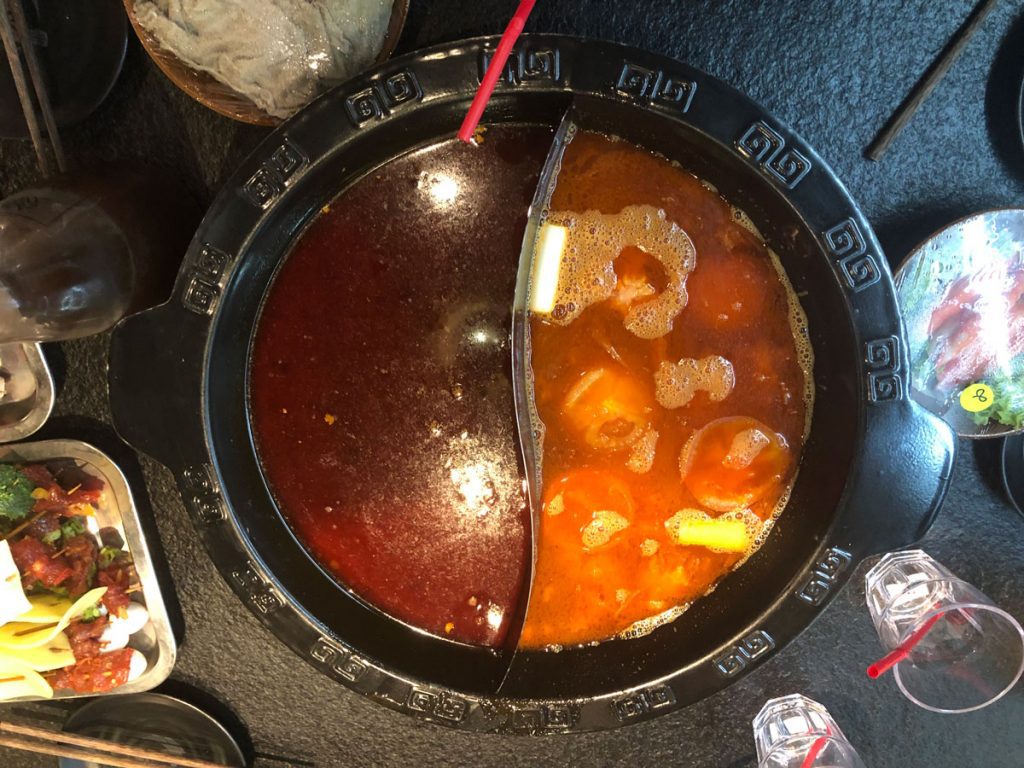 After the hotpot comes, the next step is to go over the large refrigerator and start choosing your skewers! Note that you will be charged per skewer (S$0.50 per). Except for hot pot, everything else is pretty much self-service from the refrigerator. Dip the skewers into the hotpot!
If you would like to enhance your dining experience, it is recommended to eat your spicy skewers along with Kou Bao Chuan Chuan Xiang own made Sesame oil from its secret recipe. (I think it's made and imported from China). However, the price does not come cheap. It's around S$4 SGD per can and the can is really small.
While eating, one of the waitress (seems Malaysian) was asking for our dining feedbacks, and we feedbacked that the price of the sesame oil seems quite expensive. It's just a honest authentic feedback, and we didn't expect them to do something about it. But, what happened later makes me realized that Kou Bao Chuan Chuan is serious about customer experience.  Salute! I am amazed that the Store Manager (A cool looking Taiwanese guy) actually took the matters into his hands, and waived our sesame oil charges. He said in Taiwanese Mandarin –  "No worries about the price of the sesame oil, what matters is we are eating happily! And, he even offers to give us as many sesame oil can as we want… free of charge".
Getting to Kou Bao Chuan Chuan (口爆串串香)
Address: 470 NORTH BRIDGE ROAD, BUGIS CUBE, #01-01
Facebook: https://www.facebook.com/koubaoCC
Quality of Food -

7/10

Customer Service -

8/10

Value for Money -

7/10

Atmosphere -

6.5/10
Summary
The customer service is superb! Kou Bao Chuan Chuan Xiang really takes customer's feedback seriously. Overall, I think the hotpot skewers taste delicious. Definitely, I will recommend you to try this out. If you take can spiciness, you must order the Mala soup base.
Last but not least, I do hope they reduce the price of their sesame oil cans in future. Will add more photos on my next visit! 🙂