Hongya Cave (洪崖洞) aka Hongyadong is one of the most beautiful and well-designed buildings in Chongqing, China. Built leaning on the mountain and situated just beside the Jialing river, Hongya Cave is the place you must go when you visit Chongqing.
Standing at 11 level high, Hongya Cave is the witness of the history, culture and the symbol of city life in Chongqing.
Hongya Cave has an amazing 2,300 years of history and it turns into a luminous city when night falls, bustling with lots of nightlife activities and entertainment services. This visit marks my 2nd check-in here. My previous visit happened before ShinyVisa is born thus I didn't manage to have the opportunity to cover it properly. Today, let me show how we tour around Hongya Cave!
Exploring Hongya Cave
Chongqing is well known for its spicy food. This is called Ma La Chuan (麻辣串) which also means spicy food in sticks.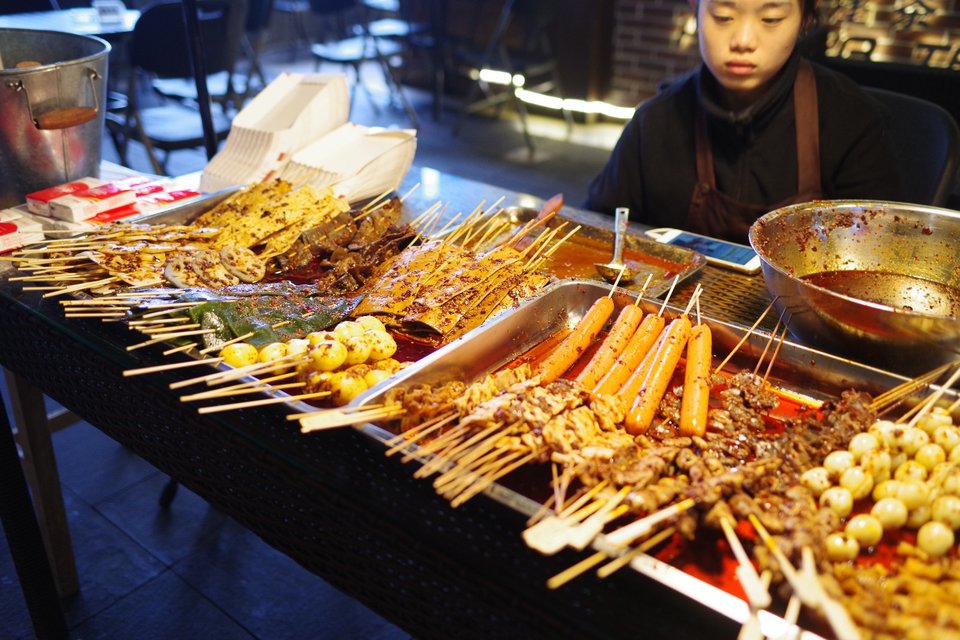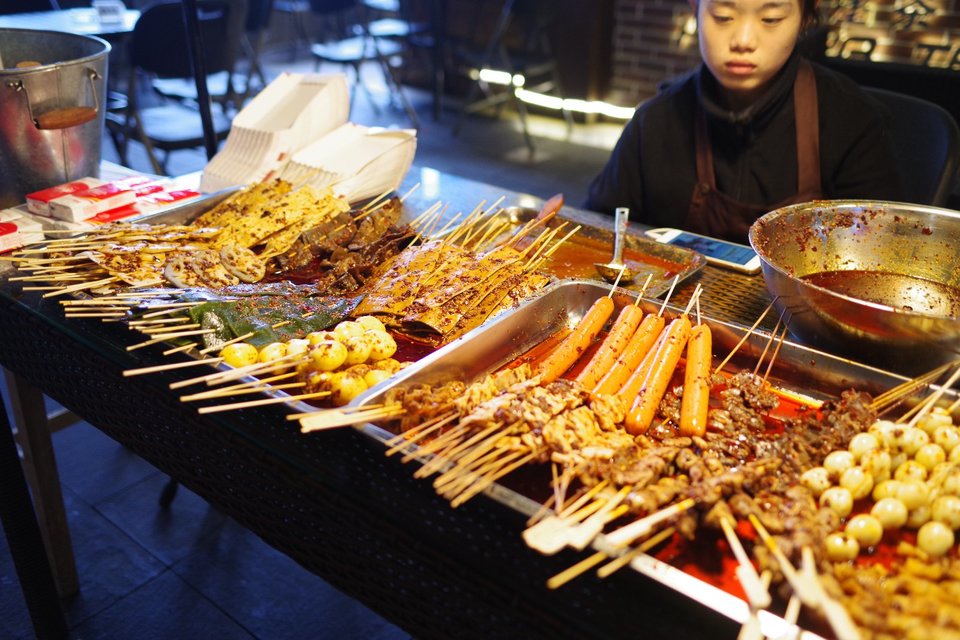 Hechuan Peach Slice (桃片) is another Chongqing famous local snacks. It is mainly made from glutinous rice, walnut, sugar and honey roses. The machine that cuts the Hechuan Peach into slices is pretty cool. It's automated.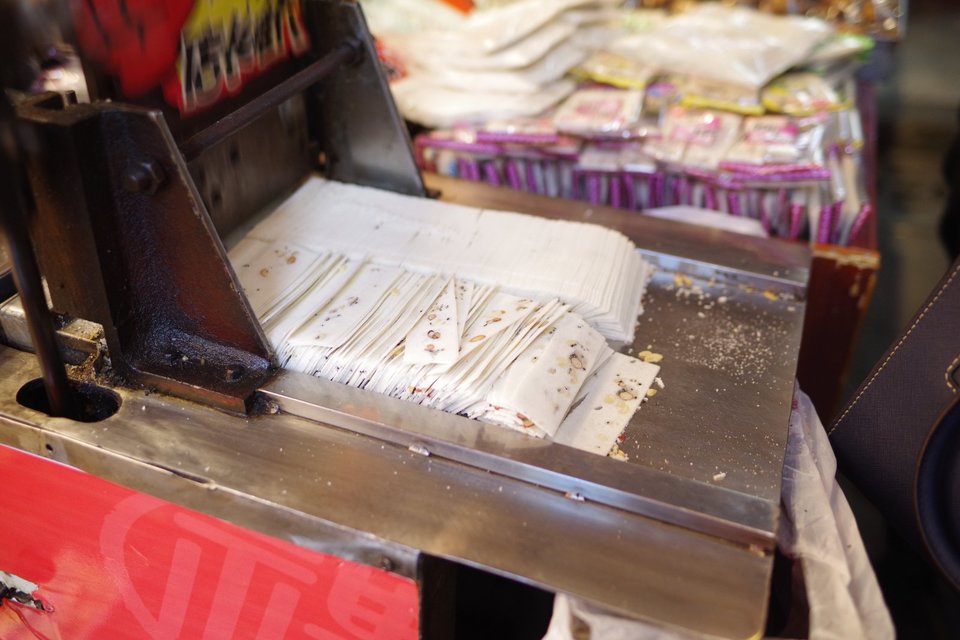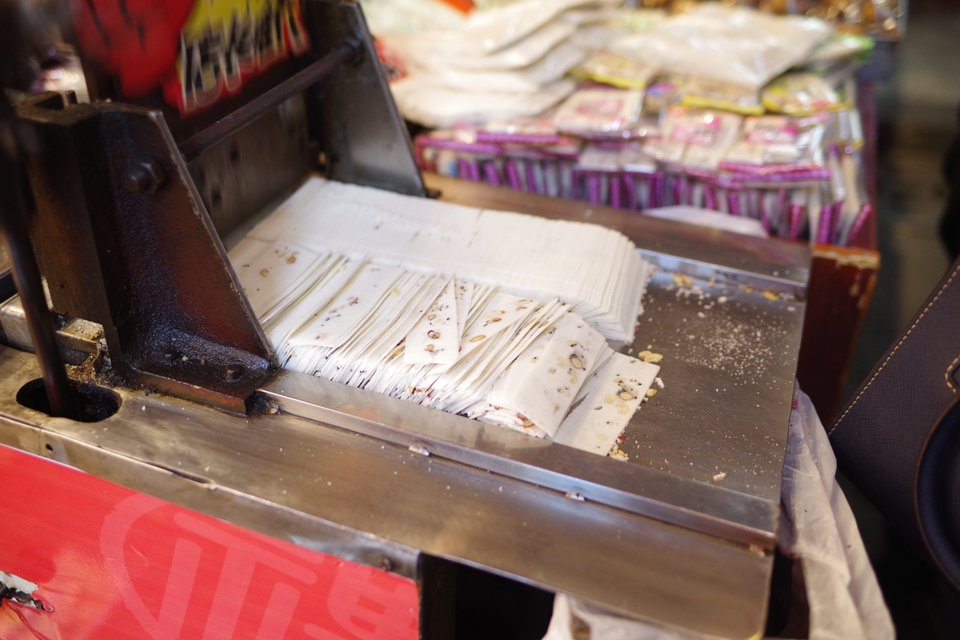 These two dudes are making Ciba (糍粑) which is basically glutinous rice pounded into a paste. This is how the paste is made – Two big wooden hammers pounding rhythmically.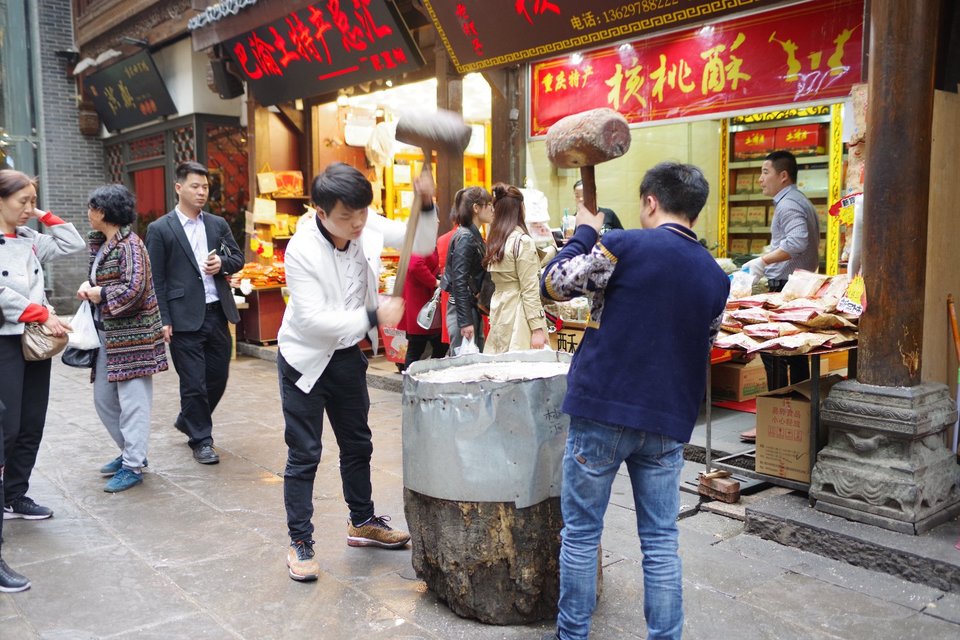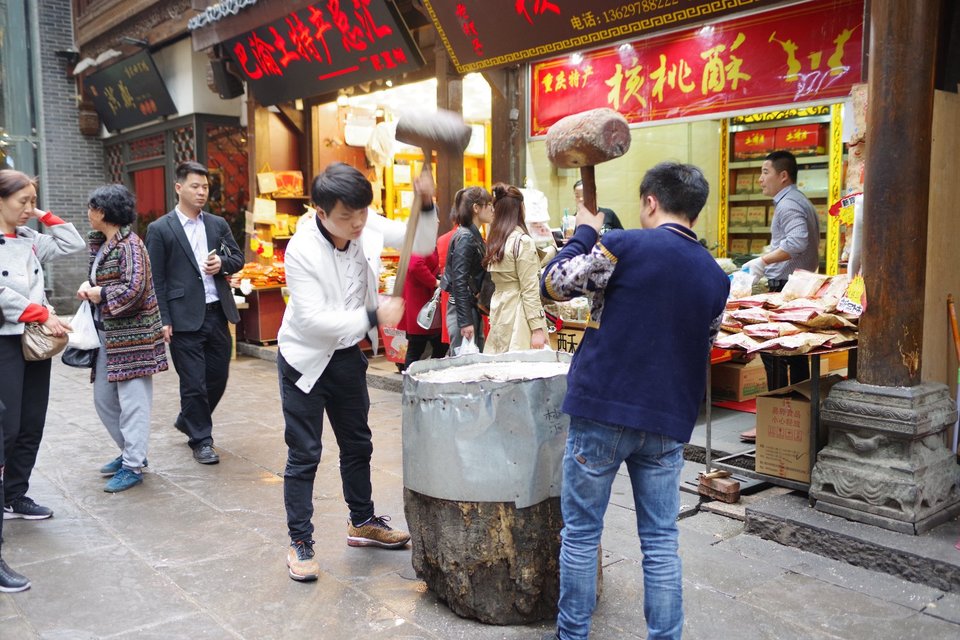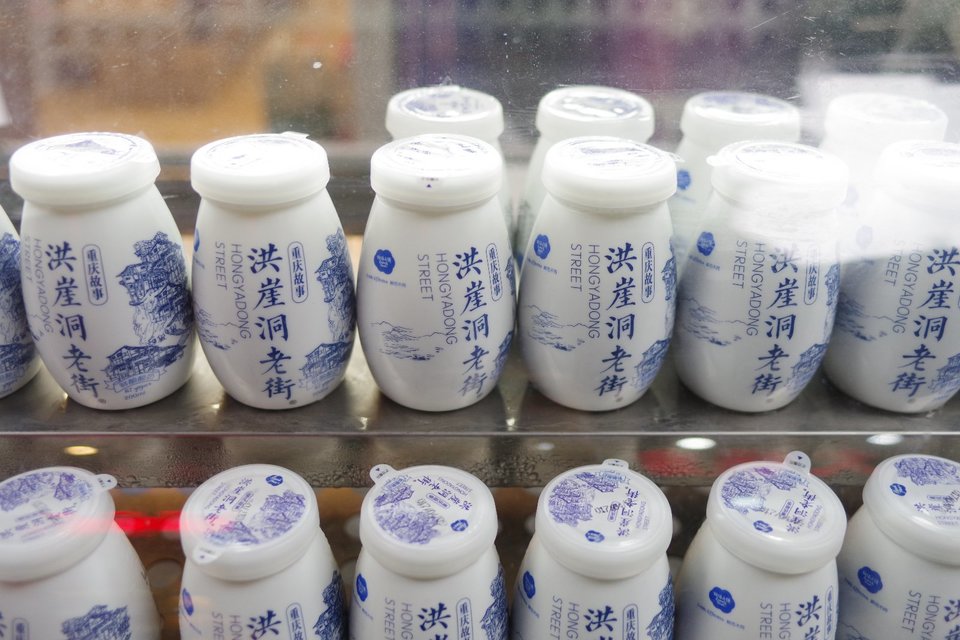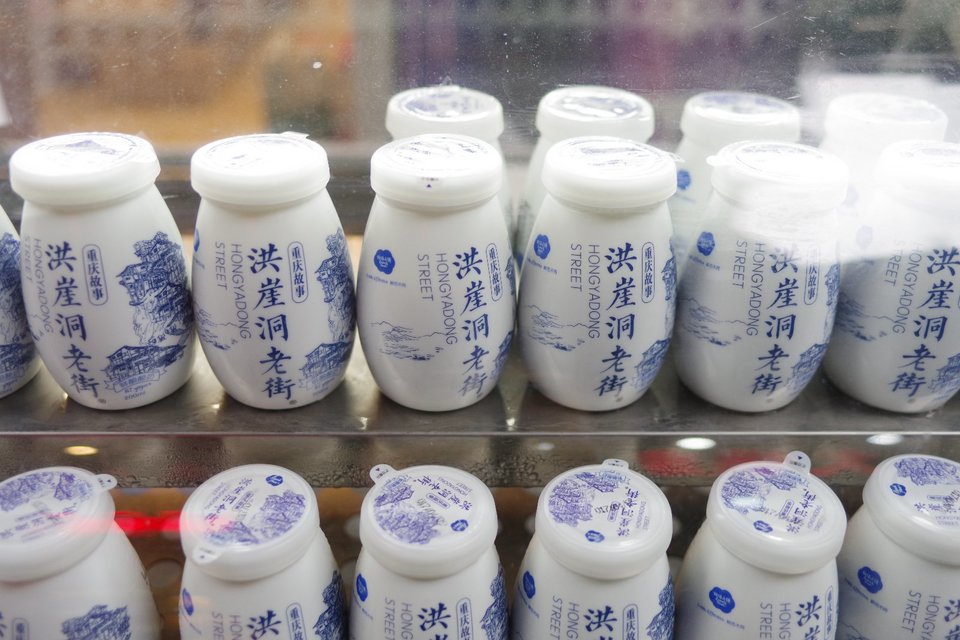 A showcase of architecture that shows how buildings are constructed leaning on the mountain as support. I think this somewhere in Level 1.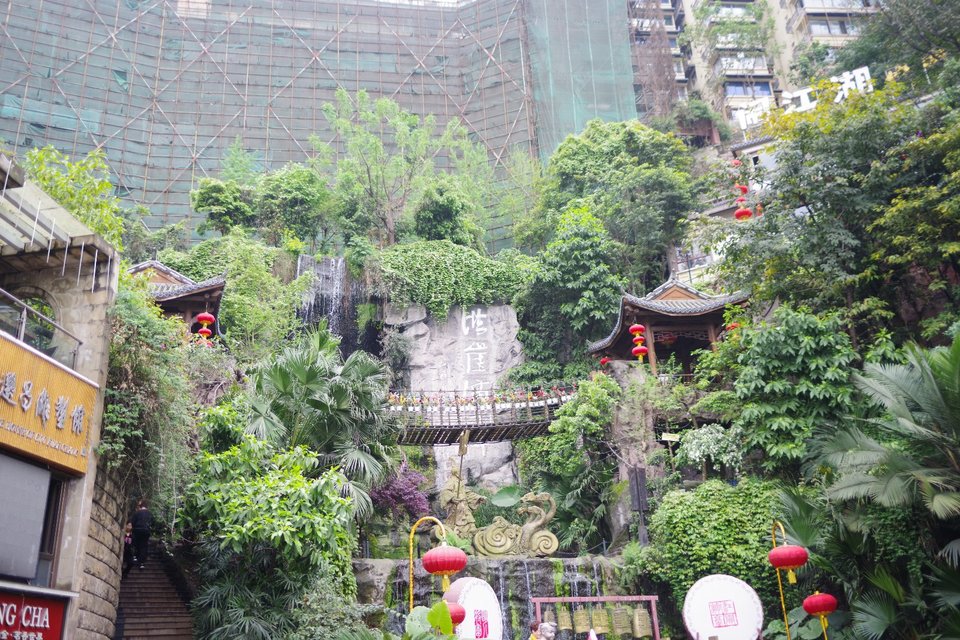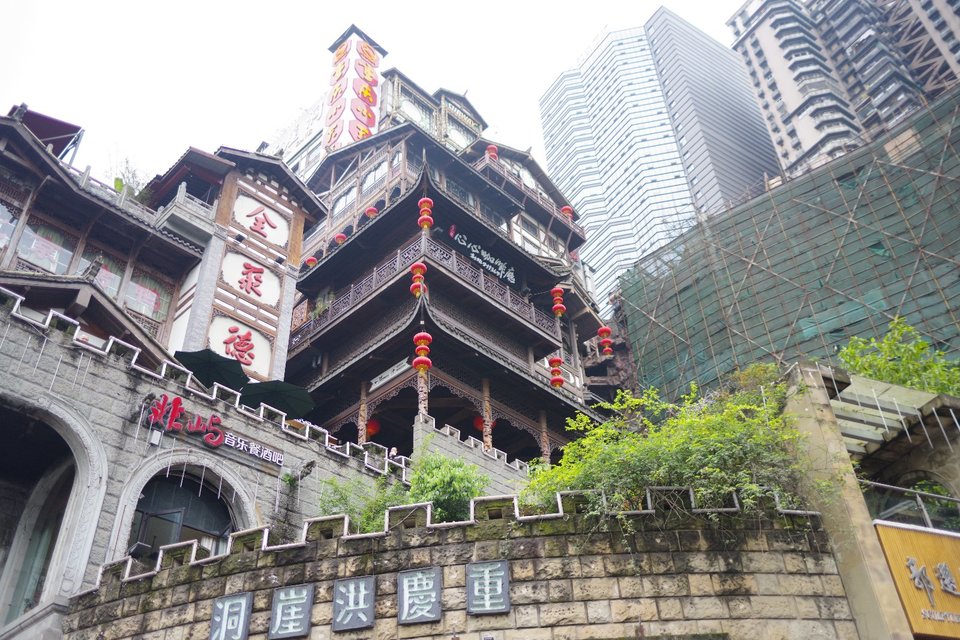 Random pub/cafe with great ambience discovered as we explored the place. Youngsters will love these.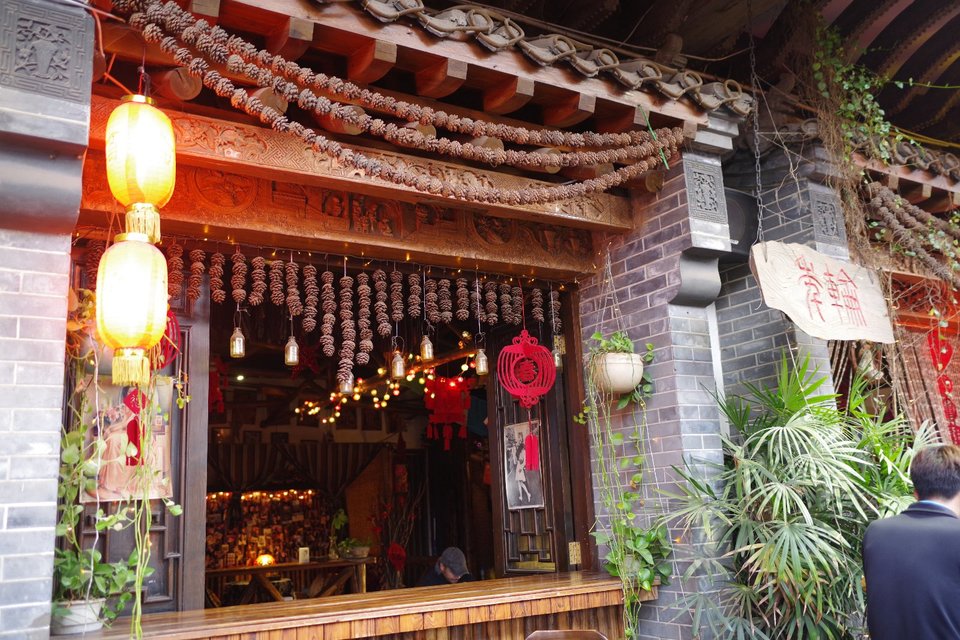 There are also some street singers who dedicate songs to the crowd making the whole environment lively. Music records companies can consider signing this guy up, he's good. 🙂
Enjoying Sunset With Drinks & Snacks in Honey Cafe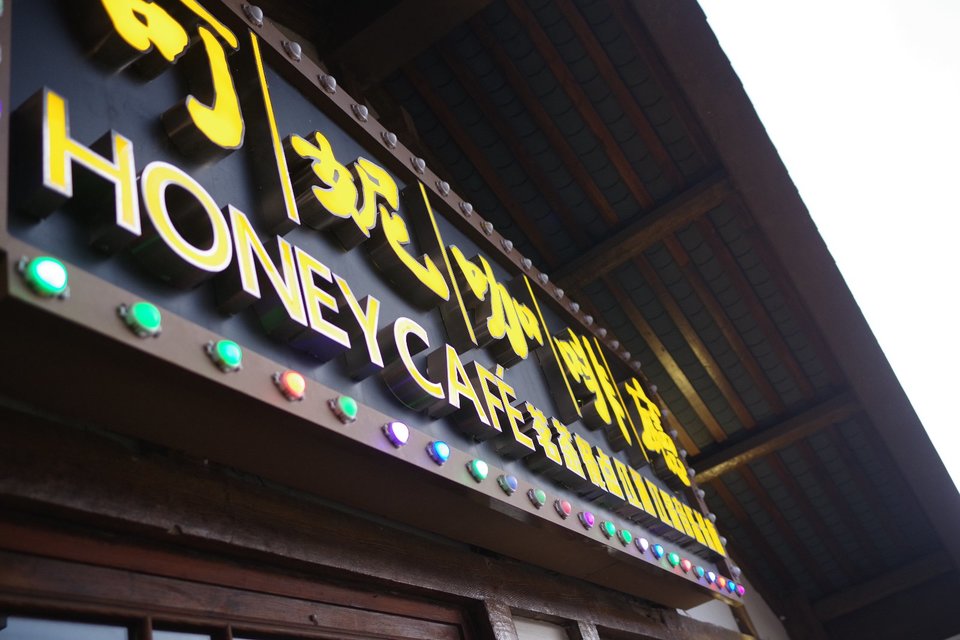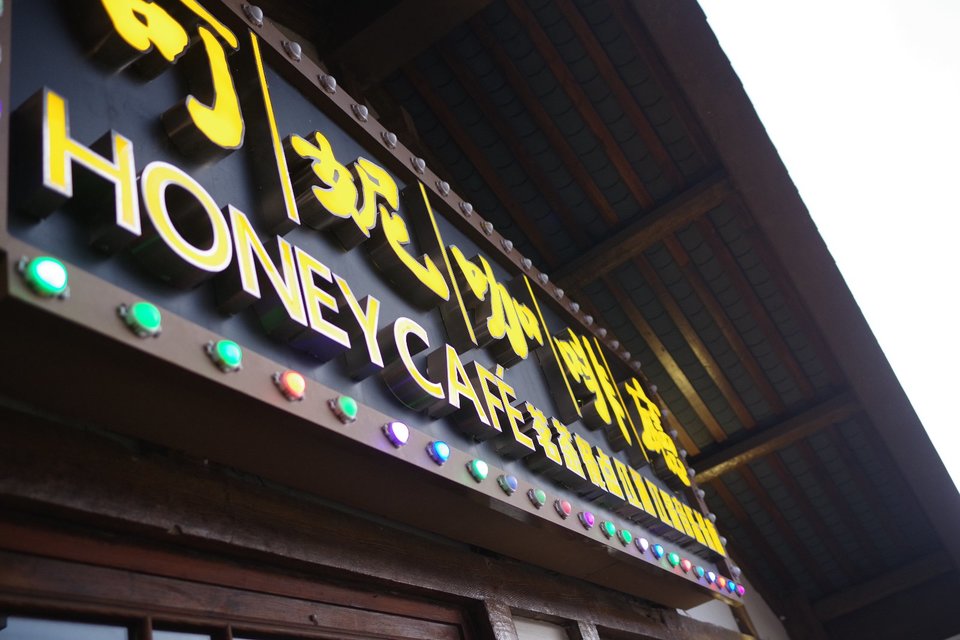 After walking around Hongya Cave, we are all beat tired. We decided to chill out in a nice cafe to enjoy the river and sunset view. In the end, we found Honey Cafe. The price is a bit steep with an average minimum order of 58RMB per person, but the cafe is strategically well-located for you to enjoy the best views. We order some drinks with waffles & snacks to go along.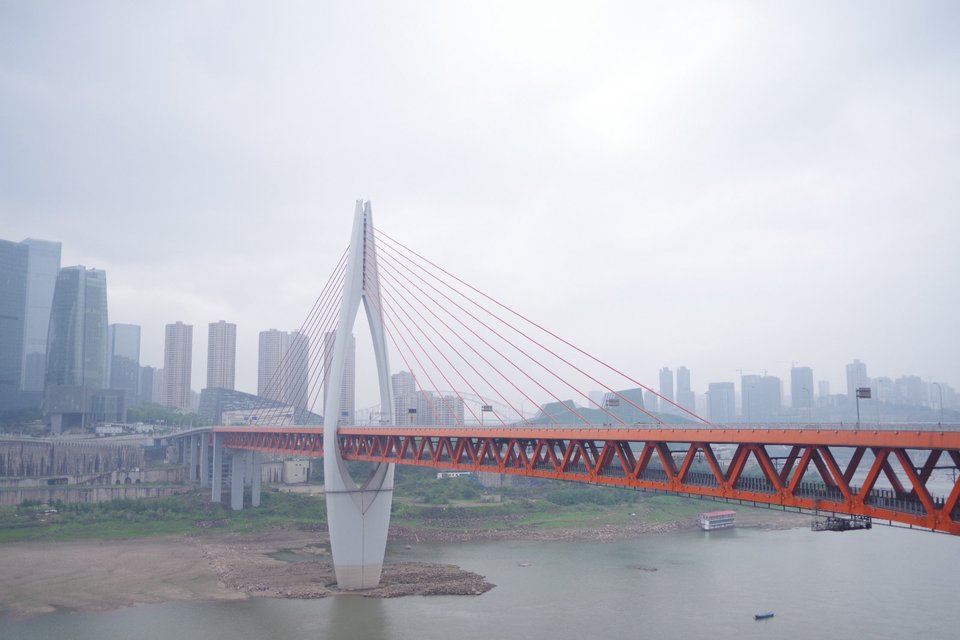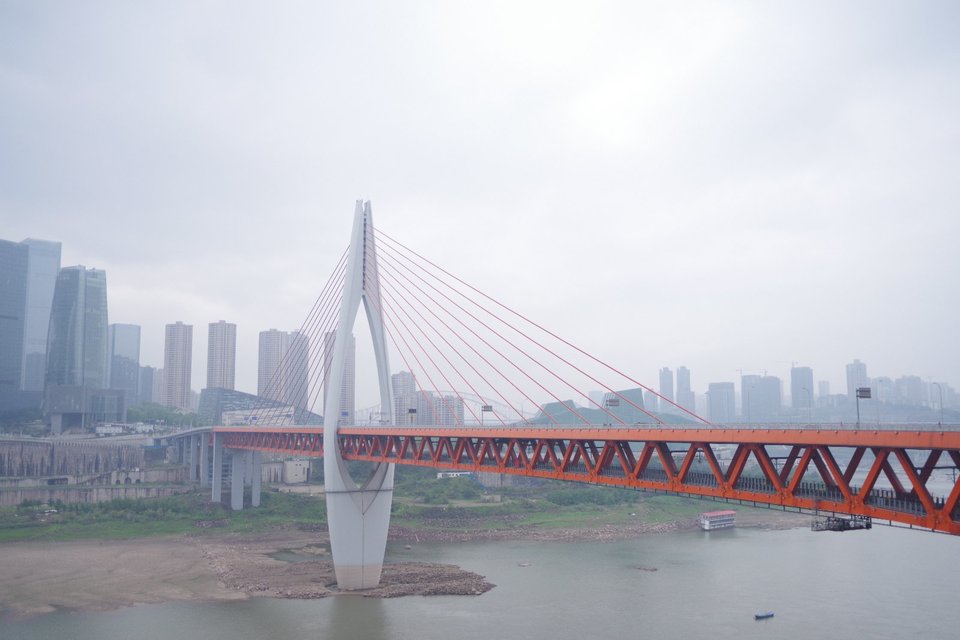 Beijing Roast Duck Dinner at Quan Ju De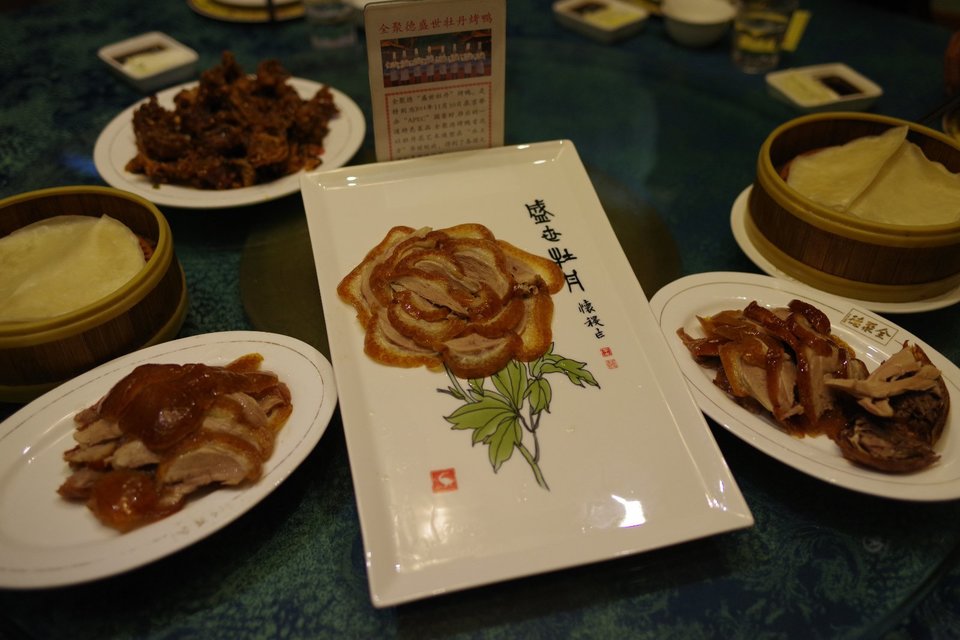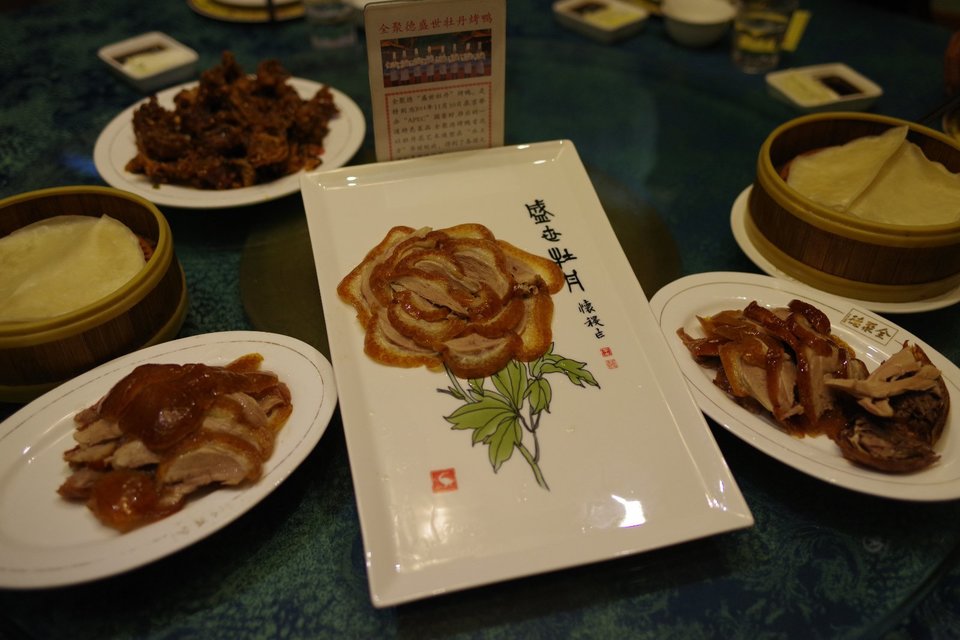 We had our dinner at QuanJuDe restaurant. I love Bejing Roast Duck and how can I miss out eating Beijing roast duck at QuanJuDe when there is one in Hongya Cave! The roast duck takes around 45 minutes to prepare and you can choose to stir fried the remaining duck meat or make it into soup.
PS: The waitress recommending stir-fried as it tastes better in her opinion.
Night View of Hongya Cave
The night view of Hongya Cave is something that is worth experiencing. When night falls, Hongya Cave begins to glow with yellowish orange lights.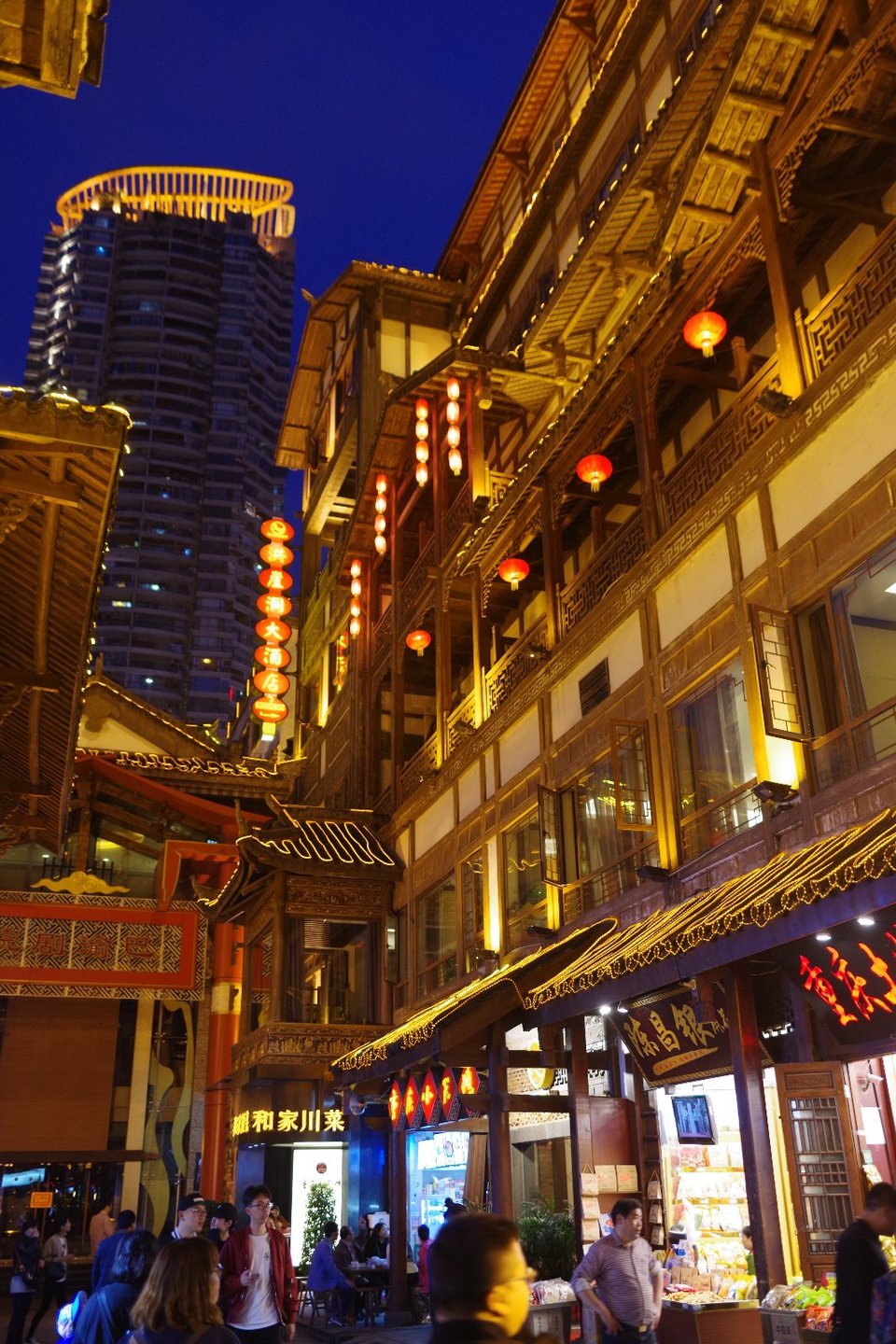 The red lanterns blend in great with the glowing buildings. I feel as if I am instantly teleported back to ancient china.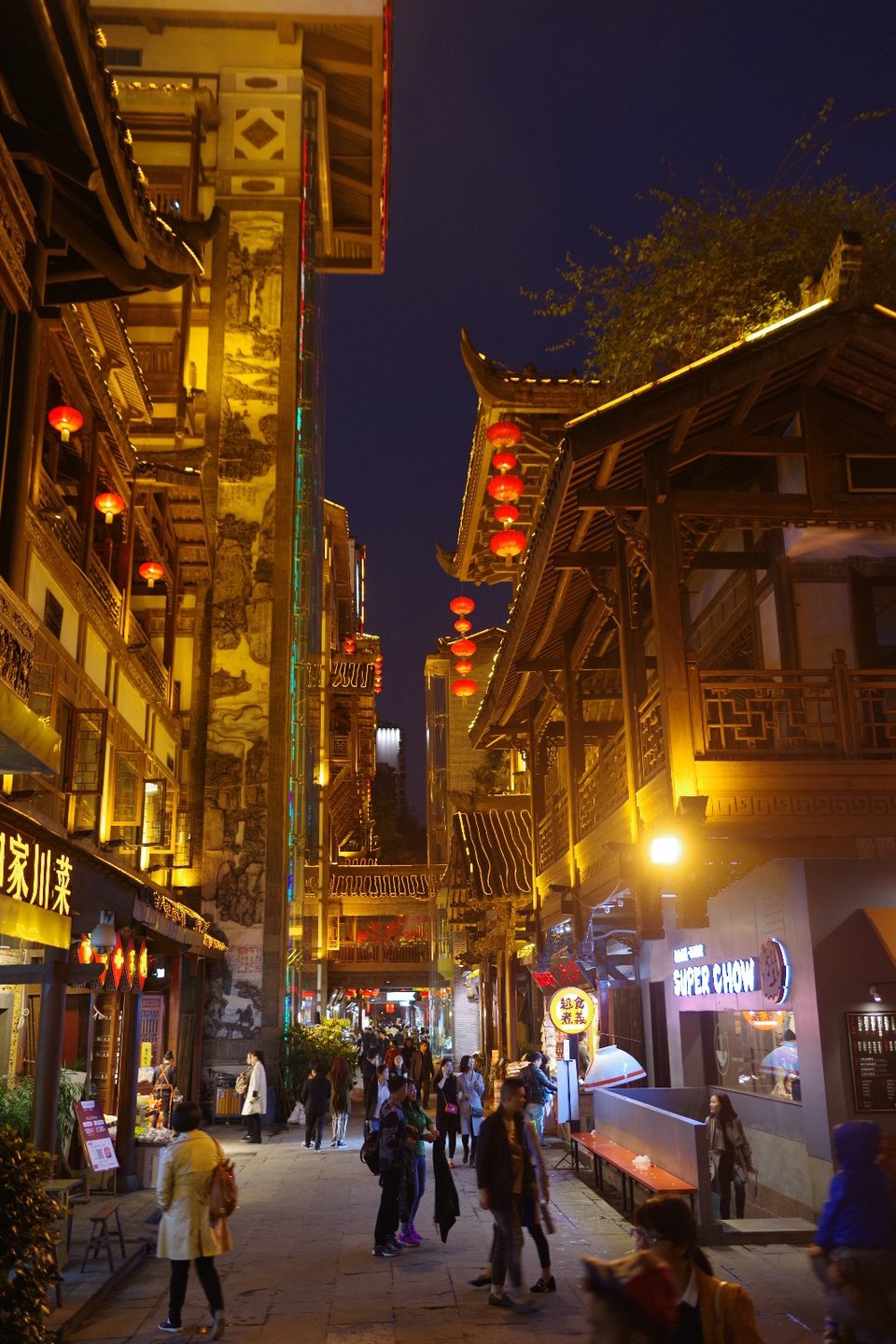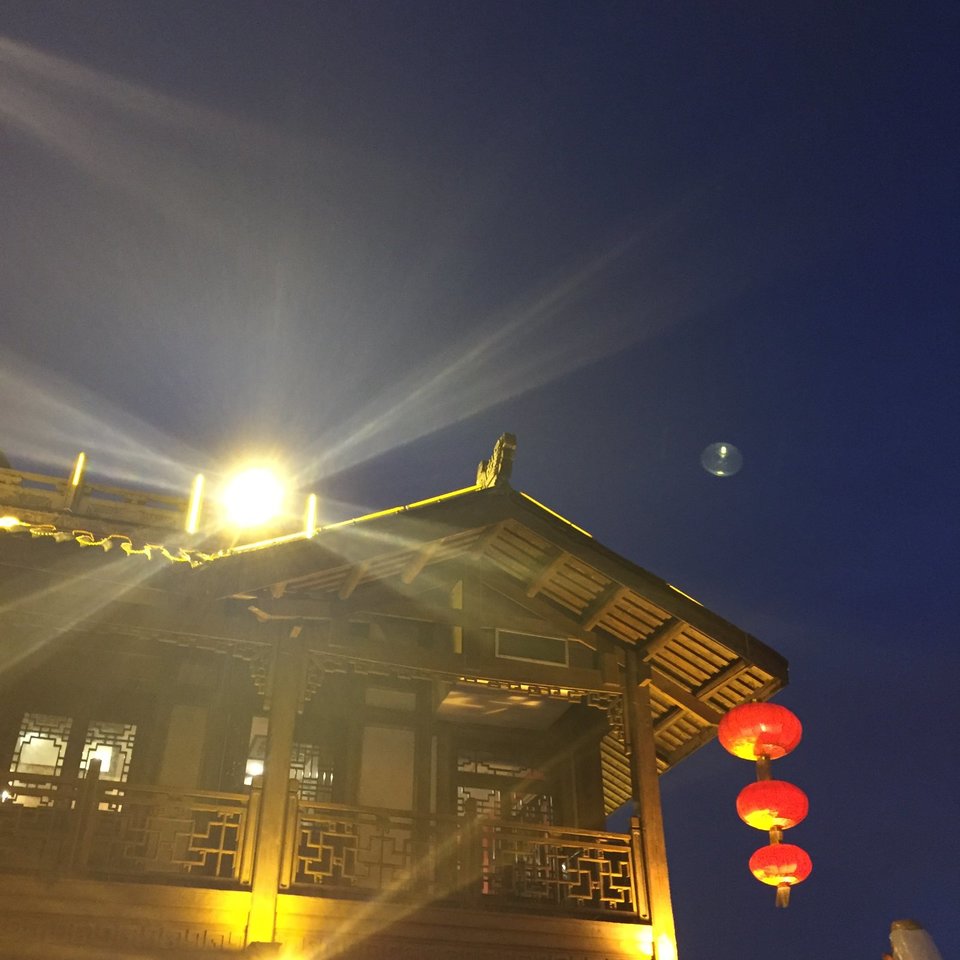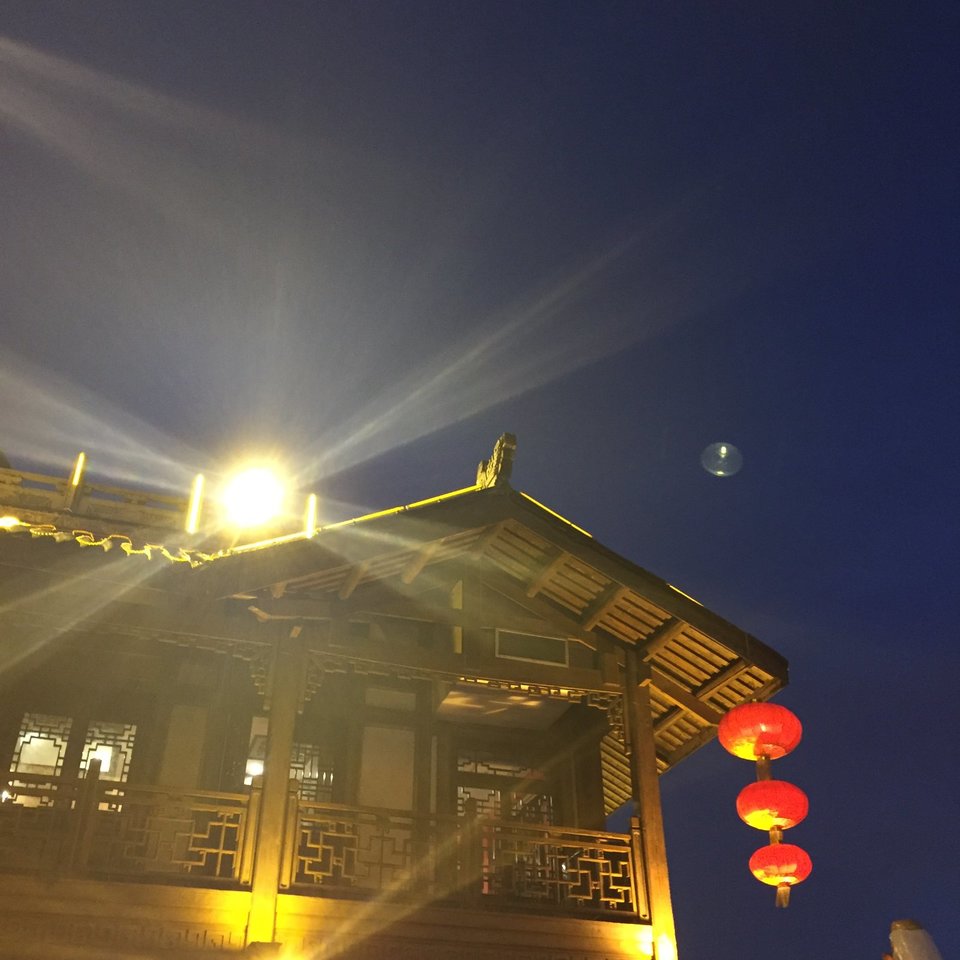 If you are interested in going on a river cruise, you can too. There are kiosks selling tickets for river cruises.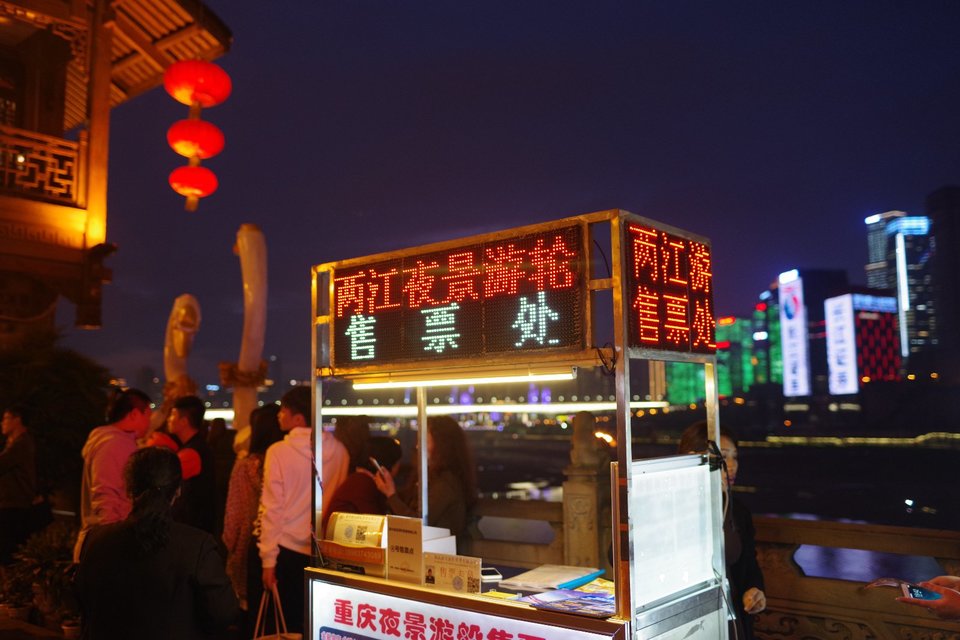 You can go to the viewing platform at level 11 and walk over to Qian Si Men Da Qiao to take a full view photo of Hongya Cave from the top. I think this is the best spot to capture the full view.
As you walk further down the bridge, you will be able to see more magnificent landmarks. Chongqing has no doubt invested in making their city night view awesome.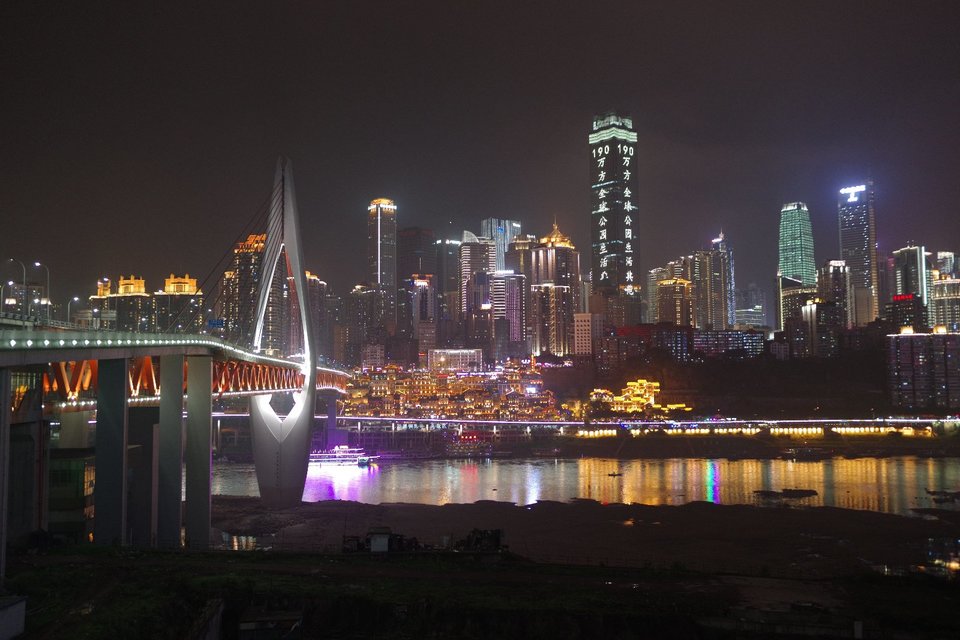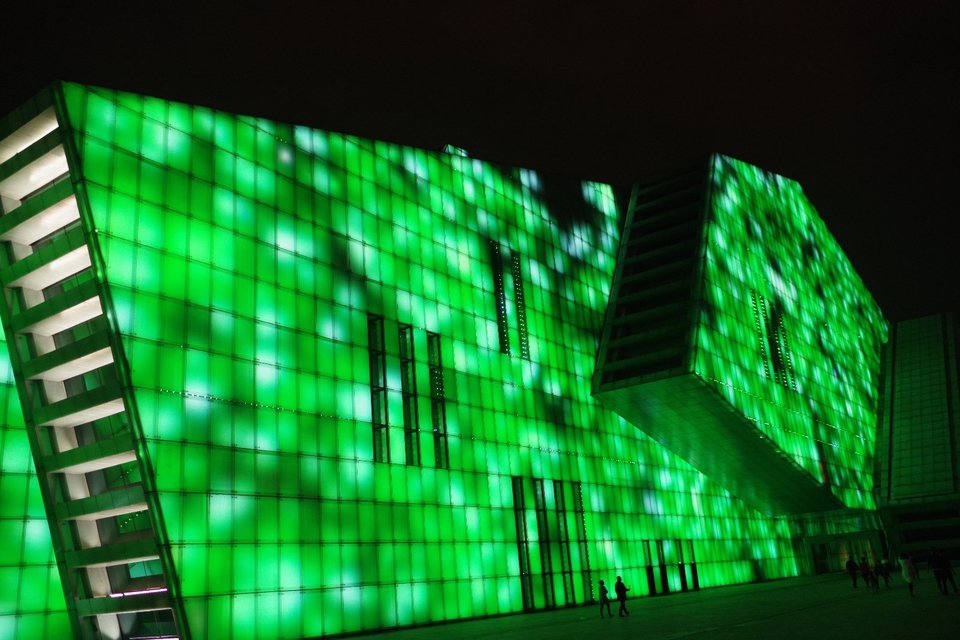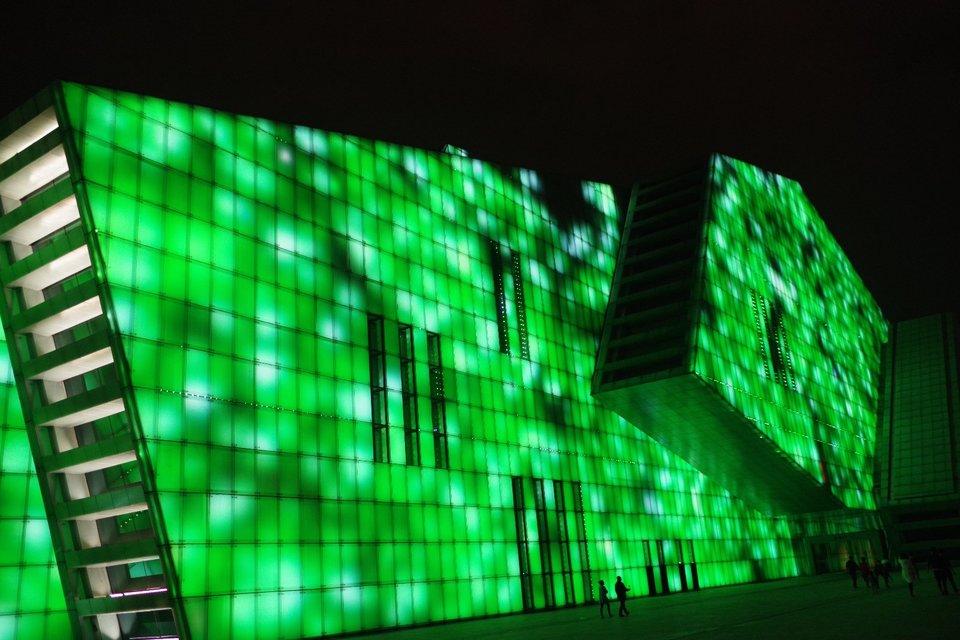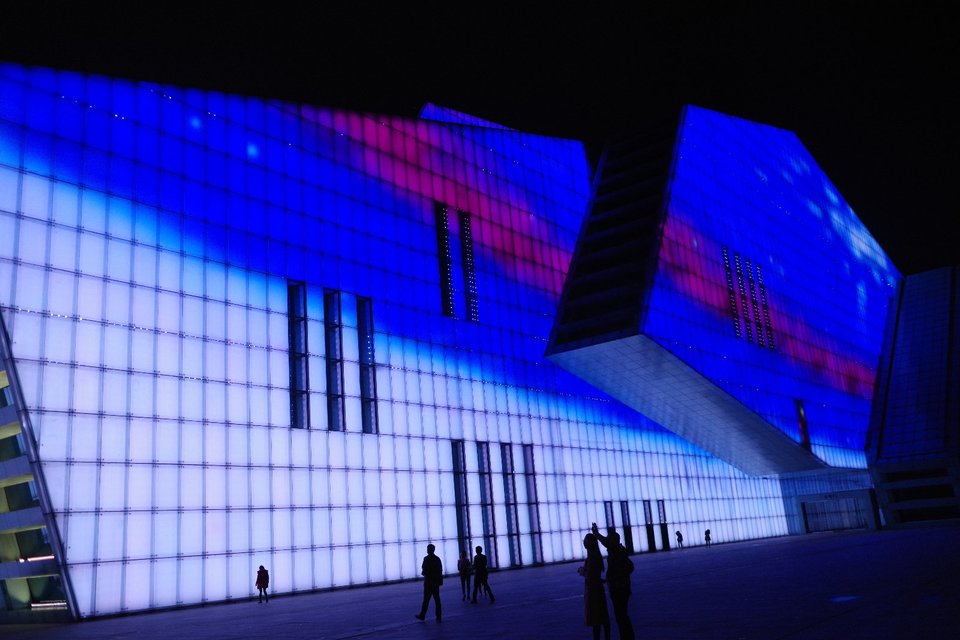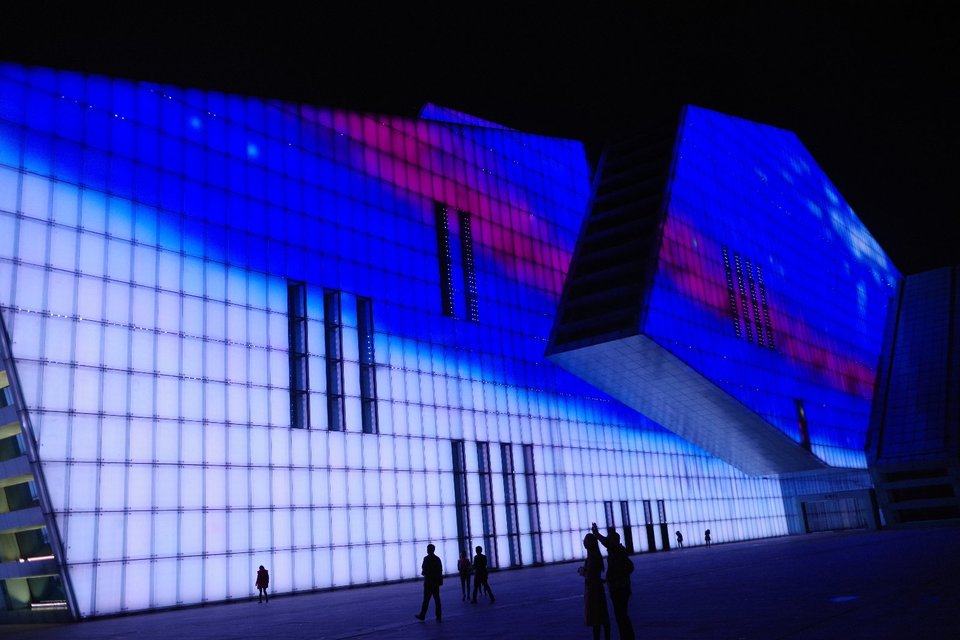 I recommend visiting Hongya Cave during evening time around 5 plus. The reason is that Hongya Cave is best viewed at night, but you don't want to miss out the day time as well. Thus, visiting during evening ensure you get the best of both worlds. Spend your evening in a cafe with some coffee/tea & snacks, and enjoy the river view and sunset. You can have your dinner here as well. After dinner, make a trip to level 11 viewing platform to see the glowing Hongya Cave at night. You can also stroll down Qian Si Men Da Qiao and experience Chongqing city in the night.
Things You Can Do In Hongya Cave
Shop for souvenirs and try the delicious street snacks like Ma Hua, CiBa, Mala Chuan etc
Enjoy the night view and night activities when night falls.
Cafe/pub hopping while enjoying the magnificent river view.
Eat in Quan Ju De, popular Beijing roasted duck restaurant chain.
Different Floors/Levels In Hongya Cave
11th – Viewing platform and bus to JieFangBei.
10th & 9th– Pubs/cafes, enjoy sceneries.
4th – Street snacks & local food.
3rd – Waterfall, ancient road and other sceneries.
Others Things You Should Know
Recommended visiting time is around 3 to 5 hours.
The lifts are slow and always almost crowded. Take escalators or stairs if you don't feel like waiting long and being squeezed in the lifts.