OFFER: Get a $48 for $80 Cash Voucher at Guo Se Tian Xiang here 
---
Speaking of Chinese cuisine, Sichuan cuisine might be the most known among people. But do you know that there is another Chinese cuisine that is similarly famous for being spicy? Yes, it's the Hunan cuisine which is also known as Xiang cuisine or 湘菜 (In Chinese, Xiang is the one-word representation of Hunan province). The renowned dish Changsha-style stinky tofu is actually from this cuisine. For me, I will start drooling whenever people mention Hunan cuisine. Fortunately, there are many Hunan cuisine restaurants in Singapore, among which the newly opened Guo Se Tian Xiang restaurant in CBD is one of my favorites.
How to get there
Located at 100 AM (100 Tras Street Singapore 079027)  –  2-mins walk from Tanjong Pagar MRT.
2 bus stops at Tanjong Pagar Road facing the mall. Ample car parking space.
Address: #02-14 100AM Shopping Mall, 100 Tras Street, 079027
Reservation:+65 68846884
Because Guo Se Tian Xiang is in CBD, there will be lesser people during weekends as compared to weekdays. The interior design of the restaurant is simplistic without much decoration, but the restaurant name is nevertheless quite eye-catching. It's actually a cheesy name originated from the same pronounced word – 国色天香 which is used to describe the female charm.
I have been to Guo Se Tian Xiang several times and their menu is updated regularly. Every time I went there I would be lucky to try something new.
For a table of two, we recommend you to order this two-people lunch set which has one main dish, two side dishes with two bowls of rice. The price is around S$20. There is also lunch set for 4 people which cost around S$40 depending on whichever main dishes you order.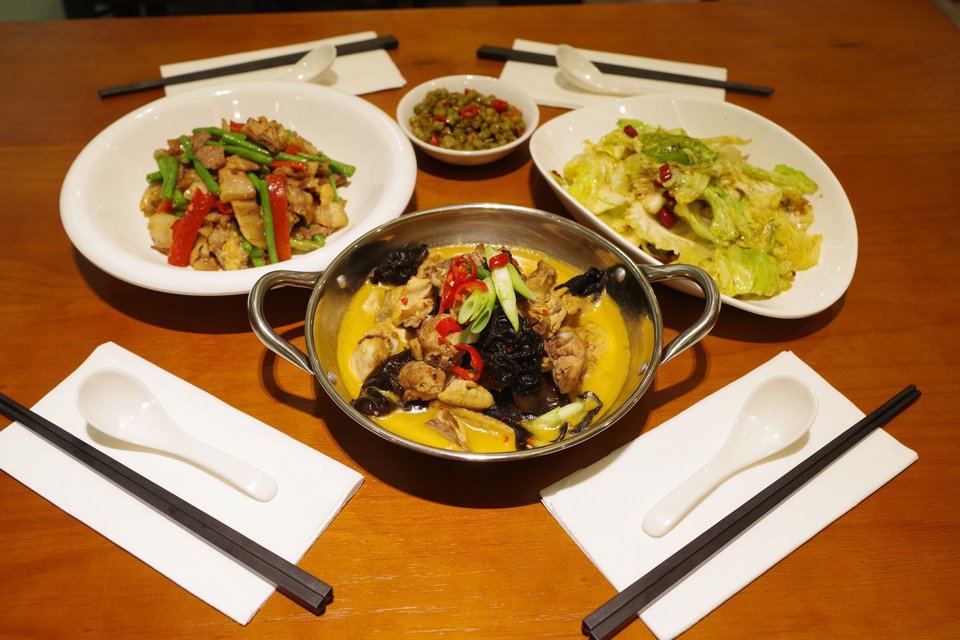 If you are craving and want to try more Hunan dishes, consider ordering ala-carte as add-ons.
The stirred pork with red peppers dish is my favorite! I recommend you to try this. But note that it's a bit spicy!
OFFER: Get a $48 for $80 Cash Voucher at Guo Se Tian Xiang here 
Quality of Food -

8/10

Customer Service -

7/10

Value for Money -

7/10

Atmosphere -

6/10
Summary
Guo Se Tian Xiang is an authentic Hunan cuisine restaurant that presents the best flavor of traditional Hunan dishes. I really like the food there and I am always looking forward to their new dishes. However, the serving time is a little bit longer than the market standards and the restaurant interior is pretty simple and that makes the dining atmosphere not as pleasant as expected.