Compared to Interlaken where most tourists (especially packaged tours) will go, Grindelwald, a destination one must pass by if going to Jungfraujoch, is a beautiful village with less commercialisation. Embedded in a unique Alpine landscape at the foot of the Eiger north face, Grindelwald has everything to make your holiday wonderful no matter it is summer or winter.
Here is our itinerary for a great summer short getaway.
Getting to Grindelwald
By rail
Via Bern or Lucerne to Interlaken-Ost. Change to the Bernese Oberland Railway to Grindelwald.
Grindelwald First
First is a summer hotspot for adventure. It provides a magnificent view to the Eiger North Face while offering a range of adrenaline activities for thrill seekers!
Ticket
from 46 CHF, according to activities select. The more you select, the package price will be better as the average price for each item is cheaper.
Half price with Swiss Travel Pass
Cable Car
You can get on the cable car from the foot of the First, ie. the Grindelwald station. There are 3 stations in total, each of which will have one or more activities which we will talk about later.
Inside the cable car, you can enjoy a good bird view of the mountains and the vast grassland besides where a crowd of cows are enjoying their meals.
Hiking
The most recommended one is from the last station First, walking upward for about 1 hour where you can see a beautiful Lake Bachalpsee,
Alternatively, you are novice like us and can walk downwards to the station Shrekfeld about 40 mins. There during the short trailing, you can greet the lovely cows and enjoy a cozy summer on the mountain with their bells ringing like a countryside song.
Rides
FIRST FLIEGER: race at speeds of up to 84 km/h down an 800 metre-long cable from First to the Schreckfeld intermediate station.
FIRST GLIDER: shaped like a eagle, the ride can accommodate four "passengers". It glides the 800-metre-long flight route at up to 83 km/h.
FIRST MOUNTAIN CART: this is the one we tried, obviously a less thrilling one but equally fun! Its more like a mix of go-kart and sledge and you can control the speed as you wish.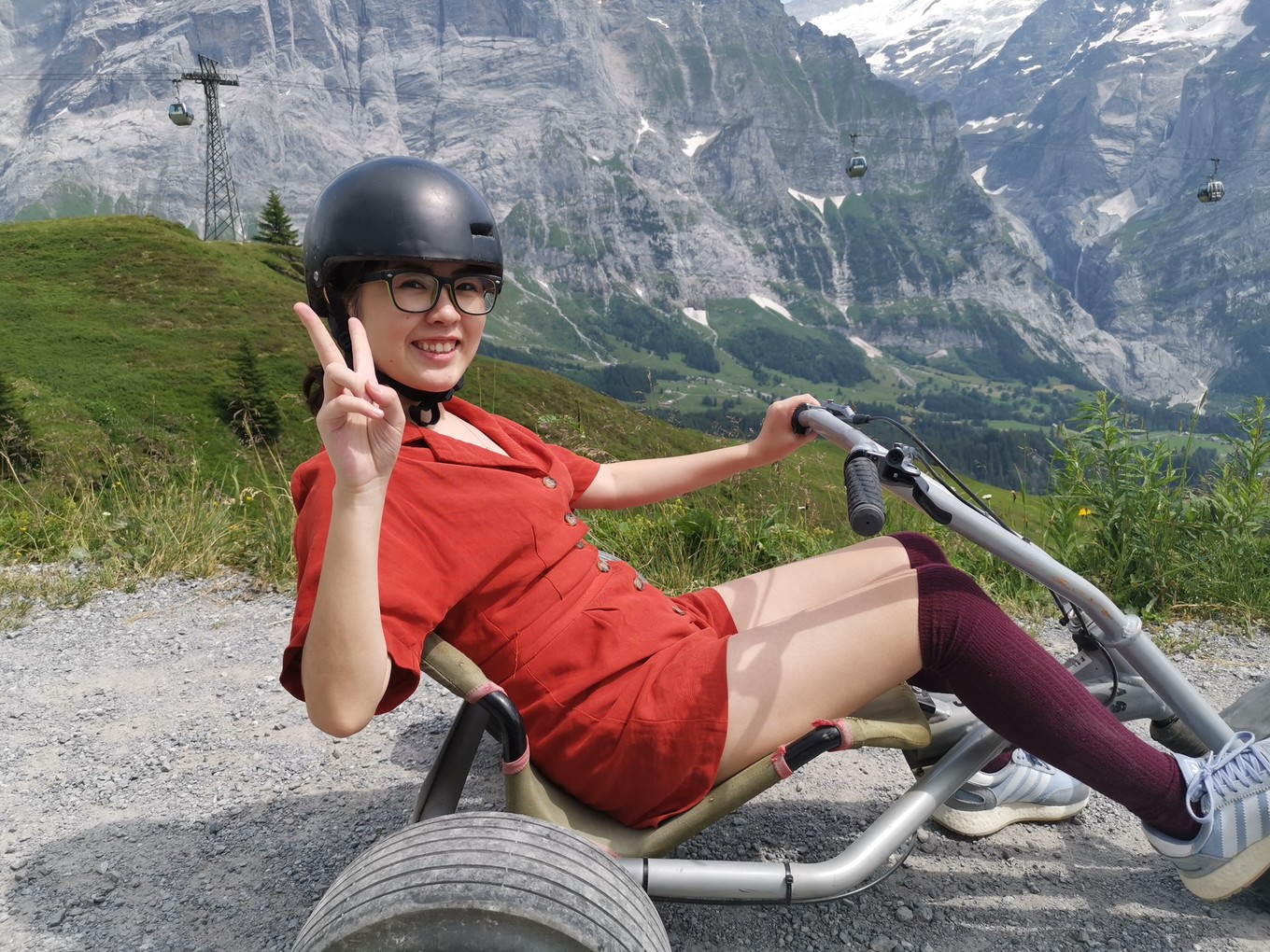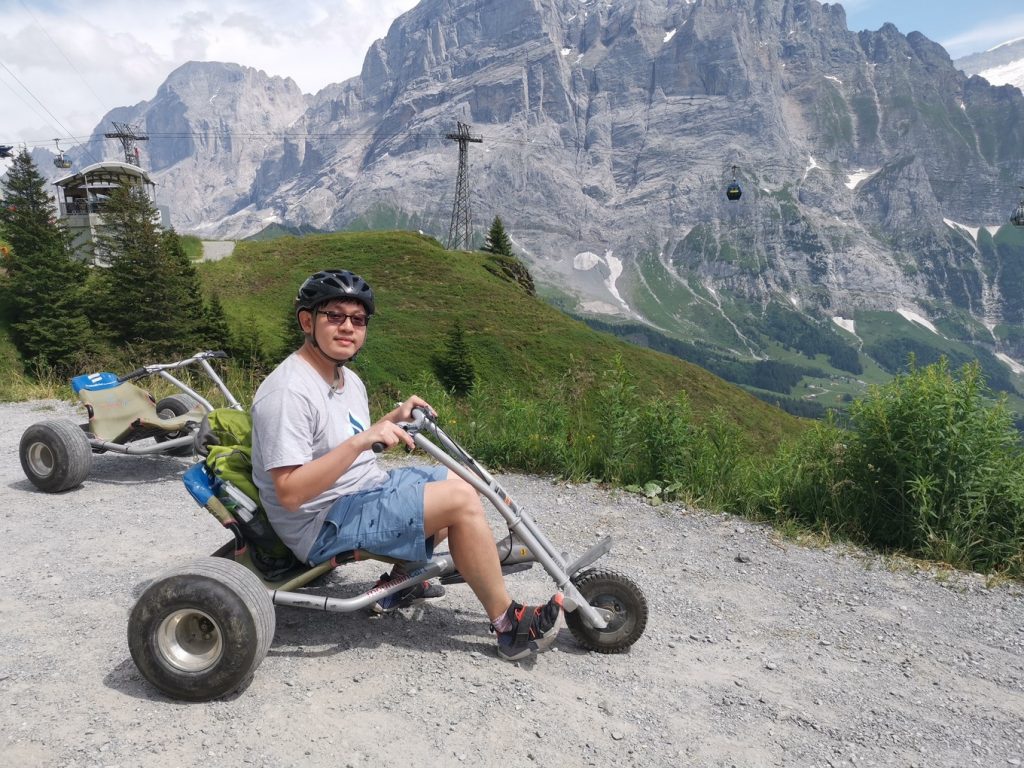 TROTTIBIKE: this requires player to at least grasp how the bicycle skills. But it is definitely more fun!
Cliff Walk
The walk leads along the rock face to a viewing platform. To be honest, I have height fear and it really looks breath-taking.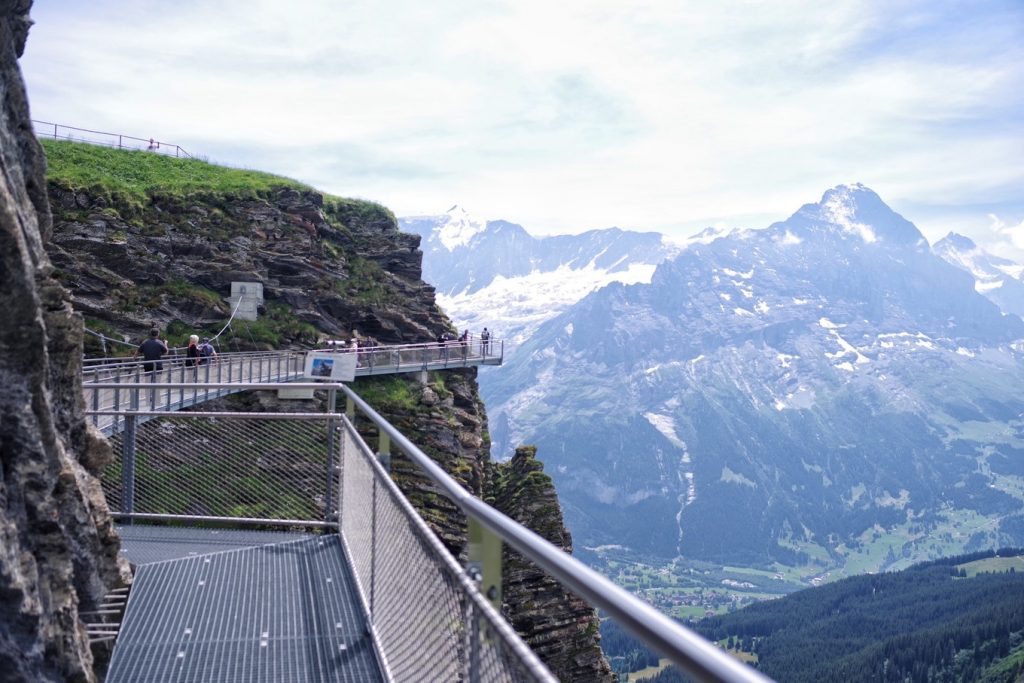 Magic Green Hills
Many people are firstly attracted by the amazing green 'mat' cascading from the bottom of the mountains to the vast of the village.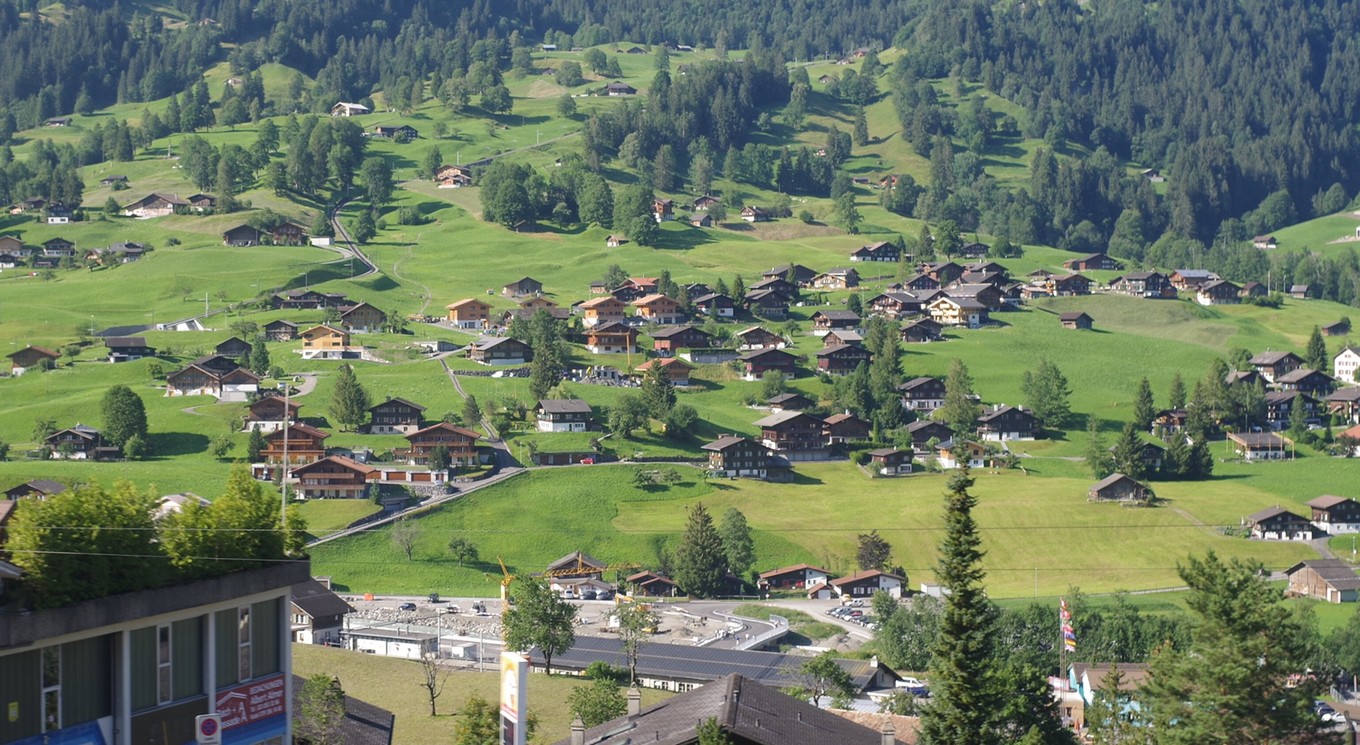 The wooden chalets dotted on the 'mat' makes it even more lively. This is where you truly see a windows desktop appear in front! Believe me, this is the most real fairy world you will ever see. Quite, serene and fantastic!
We recommend a casual walk from The Central street to the direction to Grund station. Round trip will only take 1 hour or so walking time.

Hotels
We recommend accommodation near the green hills where you can see the green 'mat' whenever you open the eyes.
e.g. Boutique hotel glacier
Restaurant
There are Many good restaurants with good view of mountains and green 'mat'. You should also have a try the local cheese fondue.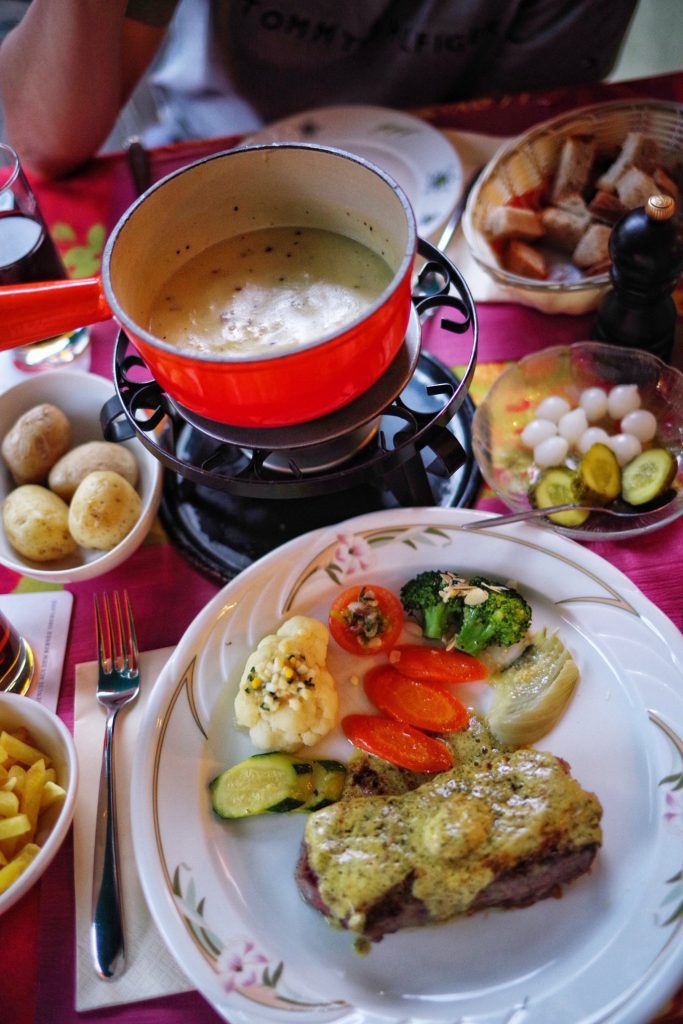 Tips
Summer of Switzerland is super long, with almost 12 hours daytime. So you can plan plenty of activities without worrying about time
The only thing you need to take care is the timing of vehicles: trains will finish around 8pm, last cable car is around 5pm etc.
Remember to apply sunblock and wear a hat/cup.
Others
https://www.jungfrau.ch/en-gb/grindelwald/
https://www.myswitzerland.com/en-sg/destinations/grindelwald/