If you research online for the most popular floating market in Thailand, Damnoen Saduak Floating Market will definitely top the list. Among most tourist who wants to visit Thailand's floating market, most will eventually end up here.
Damnoen Saduak in Ratchaburi is about 109 kilometres south of Bangkok. Journey is around 2 hours and best time to visit is from 8:00AM to 10:00:AM.
Basically, in a floating market, locals in Damnoen Saduak area will load their goods in a rowboat and paddle around the river to sell to customers in the market. You can find goods ranging from meat, fruits to even hats & clothing. You will get onto a rowboat and tour for approximately 45 minutes around the floating market. If you see any thing that you are interested in buying, just raise up your hand and the boat will stop.
We visited Damnoen Saduak Floating Market on the second stop of our half way tour. Personally, I will definitely recommend visiting Damnoen Saduak Floating Market on a half day tour package due to my bad experience of having scammed by an unscrupulous taxi driver in my first visit.
When we reached the market, the first itinerary is to take a speedboat to along the river in the vicinity. In the speedboat, you will be able to see the beautiful stilted house that locals reside in. We are also given some fish food to feed the fishes. Warning: the speedboat sometimes can go up to really fast speed. Be mentally prepared!
As the speedboat is quite fast, we didn't manage to capture any quality photos using our DSLR. We are worried it may drop into the waters.
Turn right and you will go to Damnoen Saduak Floating Market.
Our speedboat experience lasted for around 30 minutes and next, the tour guide brought us to the entrance of the floating market. When we arrived, the market is already bustling with activities! It's a really busy market and the atmosphere feels good. There is a dedicated area to board the rowboats and we waited patiently for our turn.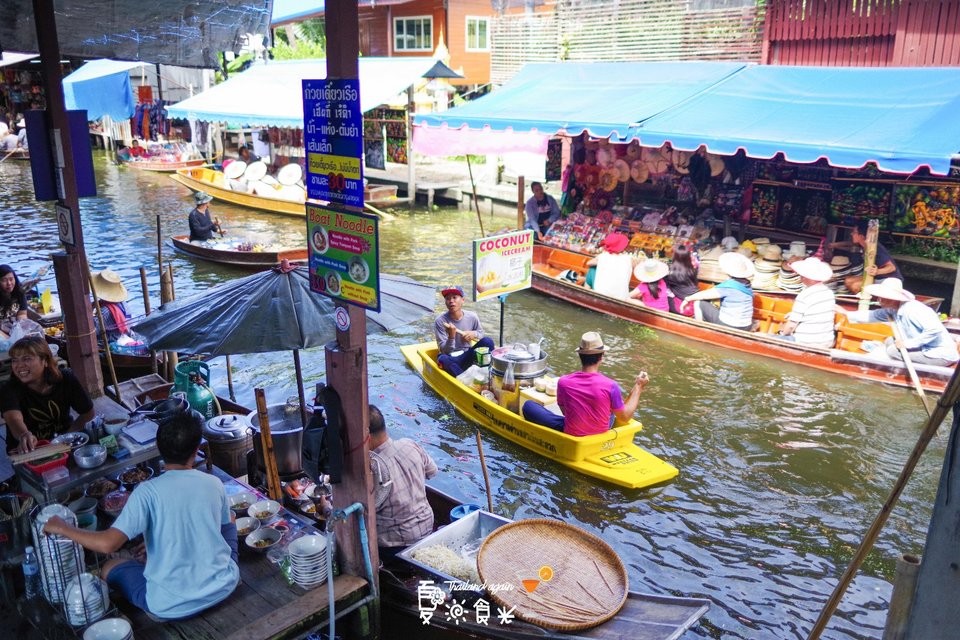 Without waiting for long, we found ourselves on a rowboat, paddling around the market slowly.
From my observation, visitors to Damnoen Saduak Floating Market seems to be majority tourist. Locals will not frequent this market as the prices are marked up due to it being a popular tourist attraction.
The weather is quite hot and we can't help but get ourselves a coconut ice cream. And let me tell you that the coconut ice cream is amazing! It's super delicious and cost just 50 baht.
After cruising the Damnoen Saduak Floating Market, we got off at the designated area where we board the boat and visited the shops/stalls alongside the river bank. If you missed out any food during cruising, you can get at these shops too.
Short travel video on Damnoen Saduak Floating Market
Getting to Damnoen Saduak Floating Market
Bus: Public buses go from Bangkok Southern Bus Terminal to Damnoen Saduak every 40 minutes from 6 am.
Taxi: Will not recommend going by Taxi, however, if you do go with a taxi, please ensure you bargain and stay vigilant. Do not get into taxi driver where they quote you a very cheap fare. They will bring you to unscrupulous boat operators which will charge you for a super expensive long tail boat ride (2000 baht per pax). We were victims of this scam on our first visit. 🙁