Founded in 2013, Da Long Yi Hotpot (大龙燚火锅) may not be well-known to most Singaporeans, but to the locals in Chengdu, this is one of the all-time best 10 best hotpot restaurants. In just merely 2 years, Da Long Yi has expanded to almost 40 restaurants in Mainland China and in 2015, they embarked on their international expansion journey. Being one of the Chinese's populated country with deep culture in spicy food, it makes great sense that Da Long Yi decided to open its first flagship hotpot restaurant in Singapore.
How can we, the self-proclaimed "Underground Chinese Mala hotpot Reviewers" miss out on such a good opportunity to be one of the first to critically review how this newcomer Da Long Yi fare against other hotpot restaurants like Haidilao or Xiao Mu Deng. We made our reservation via Quandoo at a Saturday 5:30 pm slot as we do not want to waste time queuing. Be informed that the queue will start to get crowded starting from around 6:45 pm onwards. The restaurant is conveniently located on the 8th floor of Orchard Central (nearest MRT station is Somerset). When you come out of the lift, just turn left and you will see the Da Long Yi.
I am quite impressed by the interiors of the restaurant and I exceptionally like the big golden dragon wall statue just beside the reception. It looks lavish and I feel the "Dragon" greatly signify the "Chinese" culture, and of course, its name. At 5:30 PM, we are one of the early customers and the restaurant is just around one third filled. Just like Hai Di Lao, you have to order the soup base and dishes via a tablet.
The sauce station comes at an additional cost of $2.50 per pax. Unfortunately, it's not free. There are quite a variety of common hotpot spices and sauces that you can choose from. One plus point that I like about authentic Chengdu hotpot restaurants is that they have their own uniquely customized sesame oil. Sesame oil will make a great savory difference when you dip your hotpot food in it. Believe me.
Just sharing my personal unique formula for sauce mixing. Normally, I like to put lots of garlic, soya sauce, coriander, chili sauce, and lastly the sesame oil.
Mala Beef Oil & Mushroom Soup Base
We ordered a "Wei La" (small spiciness) beef oil mala soup base and a mushroom soup base. You can choose from three different levels of spiciness. Frankly speaking, even as an avid spicy food lover, I think Da Long Yi's "Wei La" is considered quite spicy already. They also have a triple soup base combination which they called the "Benz" – This is quite interesting! Do you know why its called Benz? Tip: something to do with Mercedes Logo.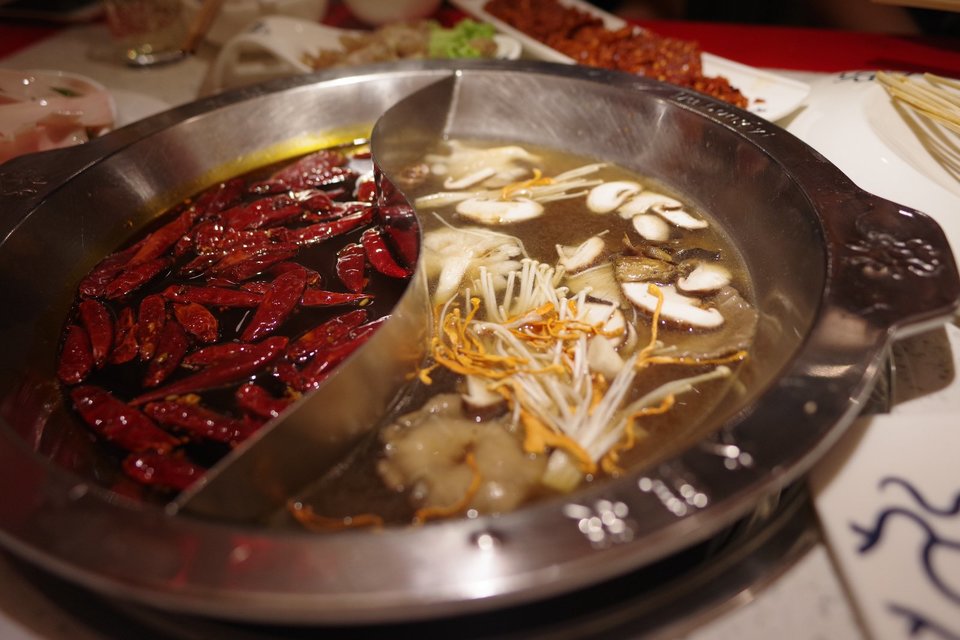 Tender Beef Slices
This is a must order dish to order for your hotpot. The meat is fresh and tender, but I feel that the quantity is not much. They could be more generous with the serving size.
Shang Shang Qian (Beef Meat)
Basically, their Shang Shang Qiang is spicy beef meats on sticks.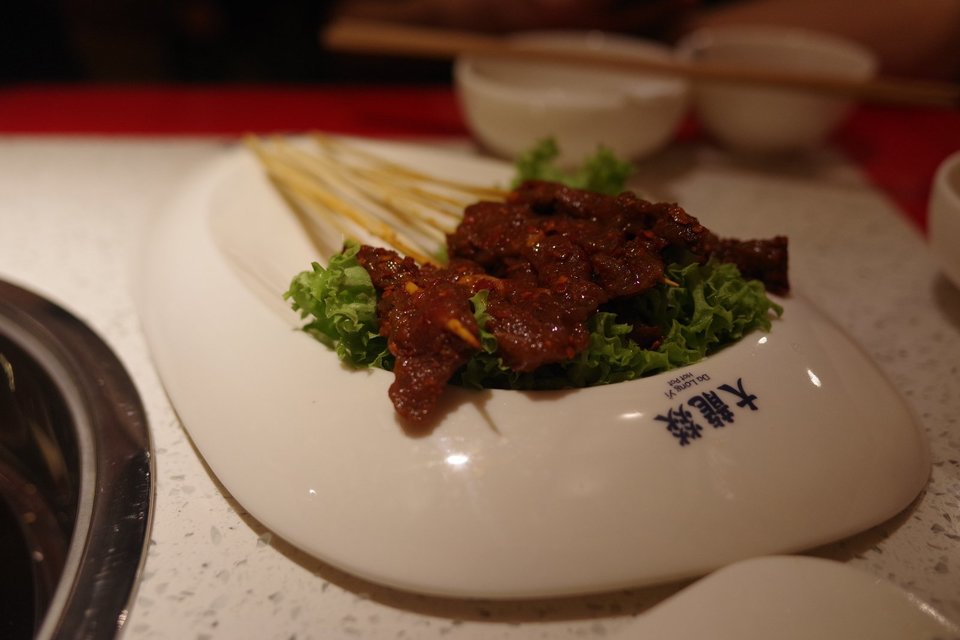 Prawn Paste
The prawn paste comes in two heart looking shape. You need to use a spoon and drop the prawn paste by individual scoops. If you ask me, it easier to request the waitress to help you with it.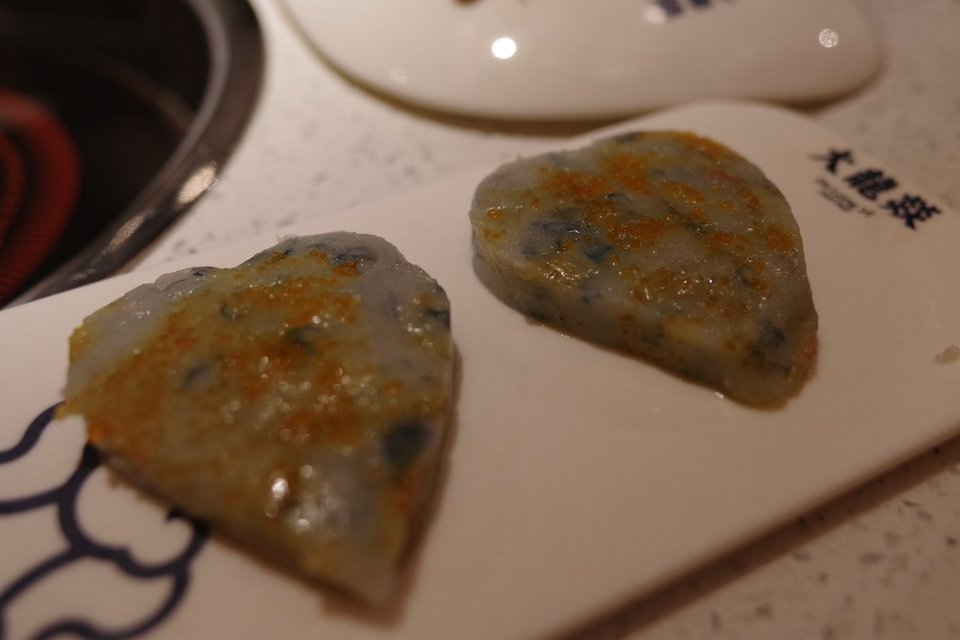 Fresh Squid
For seafood lovers, fresh squids may be a good choice for your Mala pot.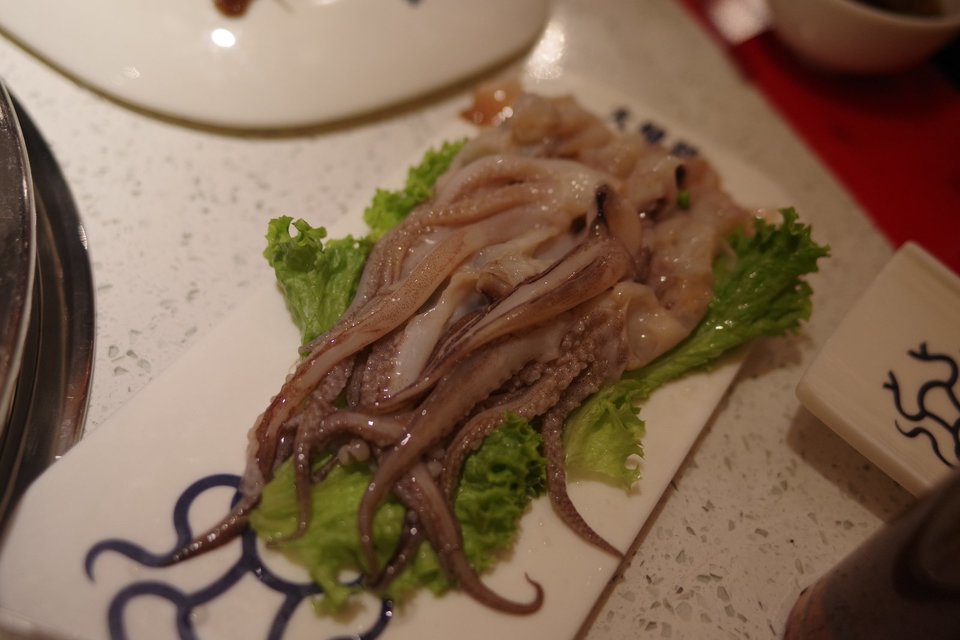 Spicy Pork
Getting to Da Long Yi Hotpot
Quality of Food -

7.5/10

Customer Service -

7/10

Value for Money -

6.5/10

Atmosphere -

7/10
Summary
Overall, Da Long Yi Hotpot is a good and authentic Chengdu hotpot restaurant I would say. The dining environment is good, the food is fresh, and the soup base is high quality. With its price, I do feel Da Long Yi can be more generous with their servings though – For me, I find that the serving is quite small. We spent around $45 per pax which is around the Haidilao price. (Disclaimer: we ordered a lot more dishes (e.g. beef tripes, potatoes, crispy sausages …etc),  but not published in the article)
Well, if I were to do an "Hai Li Lao V.S Da Long Yi", I think my vote will go to Hai Di Lao as I feel Hai Di Lao provides a better overall experience considering service, food, environment and of course price. Having said that, do give Da Long Yi a try next time you are in Orchard Central and craving for Mala. Let me know how you feel.