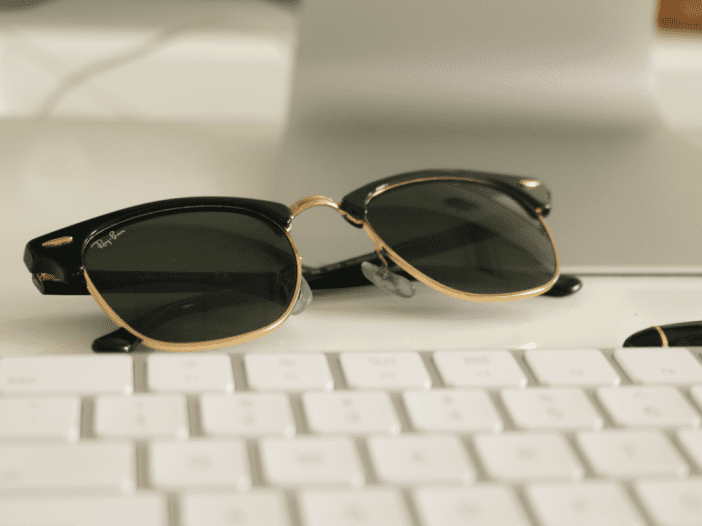 I am not an avid collector of sunglasses, but my first pair of sunglasses is this particular Italian sunglasses & eyeglasses brand with over 80 years of history. It is called Ray-Ban. Headquartered in Milan, Italy, Ray-Ban (owned by Luxottica) has now become one of the leading sunglasses brands for modern men. Personally, I think every man should at least donned a pair of famous luxury frames in a lifetime. Ray-Ban is a good brand because it is well-known for making high-quality sunglasses with a great classic & timeless design. Without a doubt, Ray-Ban has been in the media spotlight for a long time. The brand has been widely loved and endorsed by everyone from entrepreneurs to celebrities.
Ray-Ban is most popular for their Wayfarer & Aviator style of sunglasses.
The main reason why I think should invest in a pair of Ray-Ban glass is for its precise engineering and high-quality material. To be frank, my Ray-Ban is 6 years old now, but it is still in excellent shape. There are no loose screws, the frame is still strong, and there are hardly any scratches on the glass lens. As compared to you buying a lower grade sunglasses at a cheaper price which can't last for several years, a Ray-Ban seems to be a far better and wise investment.
So, here are some of my top picks for the best Ray Ban Sunglasses For Men. The below recommendations are purely based on my personal preferences as well as reviews & experience contributed by people.
Ray-Ban Aviator Large Metal Non-Mirrored Polarized Sunglasses
The Aviator series is no doubt one of the most iconic sunglass models in the world currently! Do you know that the Ray-Ban Aviator Sunglasses were originally designed for U.S. aviators in 1937? This sunglasses model got caught on a fashion and trend bug which leads to it moving mainstream. In summary, this timeless unisex model combines great aviator style with exceptional quality, performance, and wearing comfort. I would say that the Aviator is definitely one of the top Ray-Ban model to own.
Ray-Ban New Wayfarer Polarized Sunglasses
This is the new Ray-Ban Wayfarer sunglasses design. By adopting the classic ionic Wayfarer style, this new version has a smaller frame with softer eye shape. If you are looking at a design that this more appealing, do also check out the Tortoise frame design with solid brown lens. The New Wayfarer is a comfortable and stylish shade for every occasion.
Ray-Ban Clubmaster Non-Polarized Glass Lens Sunglasses
Clubmaster is one of my favorite series in Ray-Ban. I love it for its retro and timeless style. The Clubmaster is in fact inspired by the immortal style of the 1950s. Even though the Clubmaster has been re-introduced decades after decades, it is a great feat that it still possesses its initial ionic value. In short, edgy, cool, and distinctive sums up the Clubmaster glasses perfectly.
Ray-Ban Metal Sports Rectangular Sunglasses
This is the new fresh squared sports shape glasses. Made with finely brushed aluminum, spring-loaded hinges, and matte rubber temples, the Ray-Ban metal sports rectangular sunglasses is great in comfort and fit. The main features of this model is a jet black frame and contrasting crystal green lens which makes the sunglass look particularly sporty. This is a great pair for driving purposes.
Ray-Ban Men's Polarized Round Sunglasses
Round is the new fashion nowadays. This Ray-Ban model has a quirky retro style that just happens to be super trendy and fashionable this season. With its wire frame made from a sturdy yet lightweight metal, it takes inspiration from the rounded tea shades from the 1960s. Definitely, this round sunglasses are a top choice if you follow vintage trends and it is super perfect for the beach.