If Dalat is the "Paris" in Vietnam, then Bana Hills may be the Dalat in Danang. Do you still remember in your childhood's storybook where up in the mountain far away from the city,  there are a prince and princess who live in a fanciful big castle, greeted by the beautiful sun and singing bird every day? Bana Hills is the place that turns all your this fairy tale dreams into reality.
About Bana Hills
Perched 1,500m high on a mountain, Bana Hills is a resort world with French styled villages, which were first built by the French colonials in the 1920s. Originally, it was built for the purpose of escaping the summer heat. Due to its historical roots, Bana Hills as a holiday destination was abandoned for some time and only recently re-developed by the Sun World entertainment company. It is said Bana Hills got its name from a blossom of bananas initially found over the mountains.
How to Get There
It was about 40 mins drive from the city center of Danang. There are many one-day tours to Bana hills, normally including a two-way transportation, entrance fee, and lunch buffet. We paid a local travel tour agent around 50 USD for the trip and enjoyed a free and easy stay inside the resort.
Entrance fee
Non-Da Nang resident: 600,000VND for adult/500,000VND for children between 1 – 1.3 meters/ FREE for children under 1 meter
Da Nang resident: 400,000VND for adult/ 300,000VND for children between 1 – 1.3 meters/ FREE for children under 1 meter.
The ticket is valid within 1 day.
For more information, visit http://banahills.sunworld.vn/en/
Our Experience
We arrived at the entrance of Bana Hills early morning. In fact, it looks quite like Forbbiden City in China. The first stop we were visiting was the Debay Wine Celler in the middle of the mountain. We had to take a cable car up. The Ba Na Cable Car is one of the world's 10 most impressive cables cars. Opened on 29 March 2013, it also holds the world record for longest non-stop single track cable car at 5801 meters in length. It took about 15 mins to get to the Debay Wine Celler and the mountain view was simply stunning. Because of rain and fog, everything was mysterious and we indeed felt like moving in heaven.
The Debay Wine Celler is a heritage from French Colonial times. It is 100m long and the cellar is always kept at an ideal temperature from 16 degrees to 20 degrees Celsius.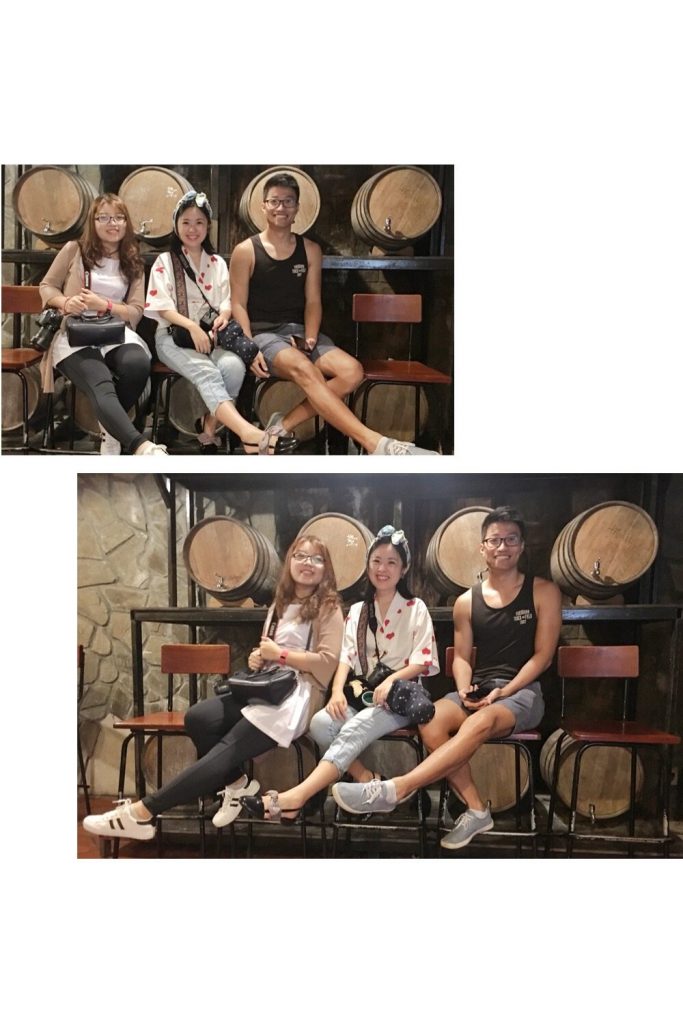 Nearby, you can find the popular European themed garden – Le Jardin D'Amour. There are 9 small gardens with unique architectural styles inside, each representing an interesting story. It's indeed a garden in the clouds.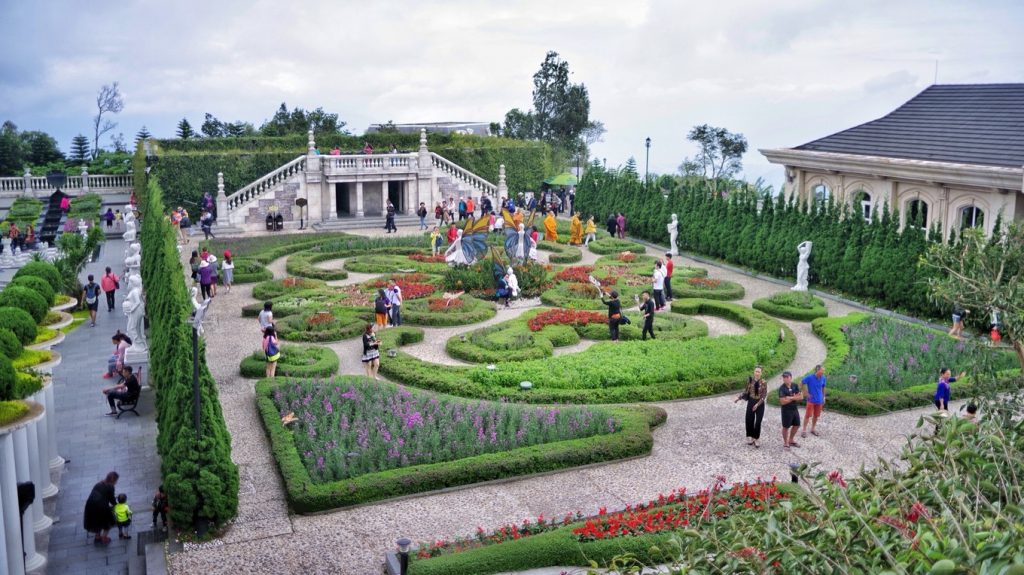 To get to the top where the French Village is located, we need to take a small train called "Funicular" to a transit station and then take another smaller yellow cable car which looks like a "huge egg". The journey was interesting just like an adventure.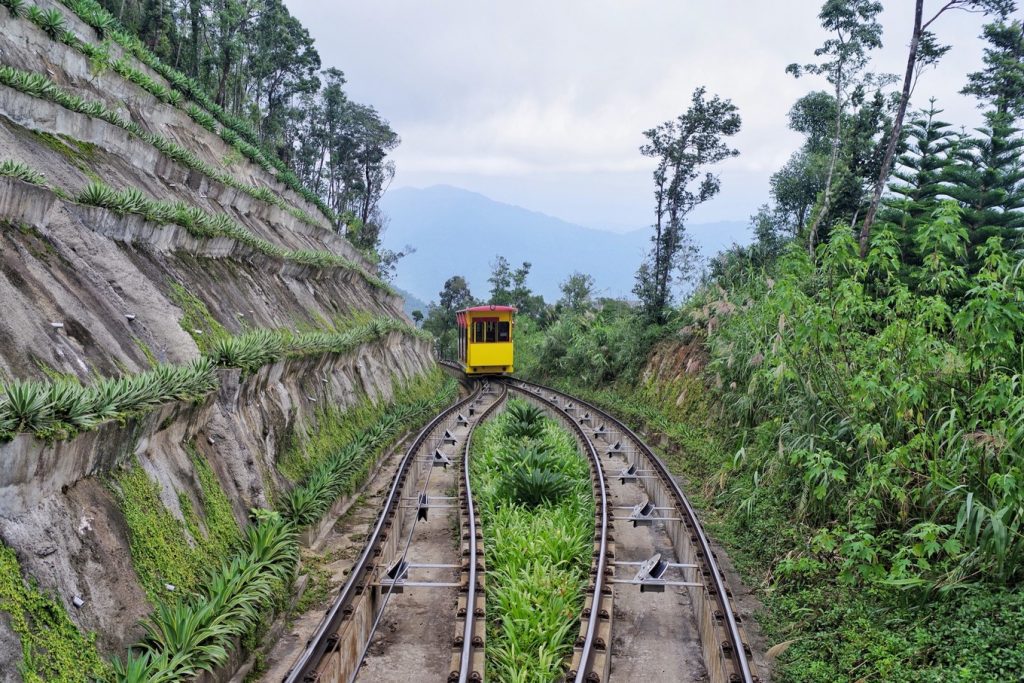 Finally a beautiful yet mysterious French village was gradually revealing in front of our eyes. We could not control our excitement anymore!
It was during Halloween season and thus the decoration was all Halloween themed. There were a lot of models in costumes that visitors could take photos with just like the Disneyland, though visitors may need make a little donation. The village is fantastic but because of the fog, the photo looks a bit blurry. And yes, it is always the case that you may experience fog in all 4 seasons in Bana Hills.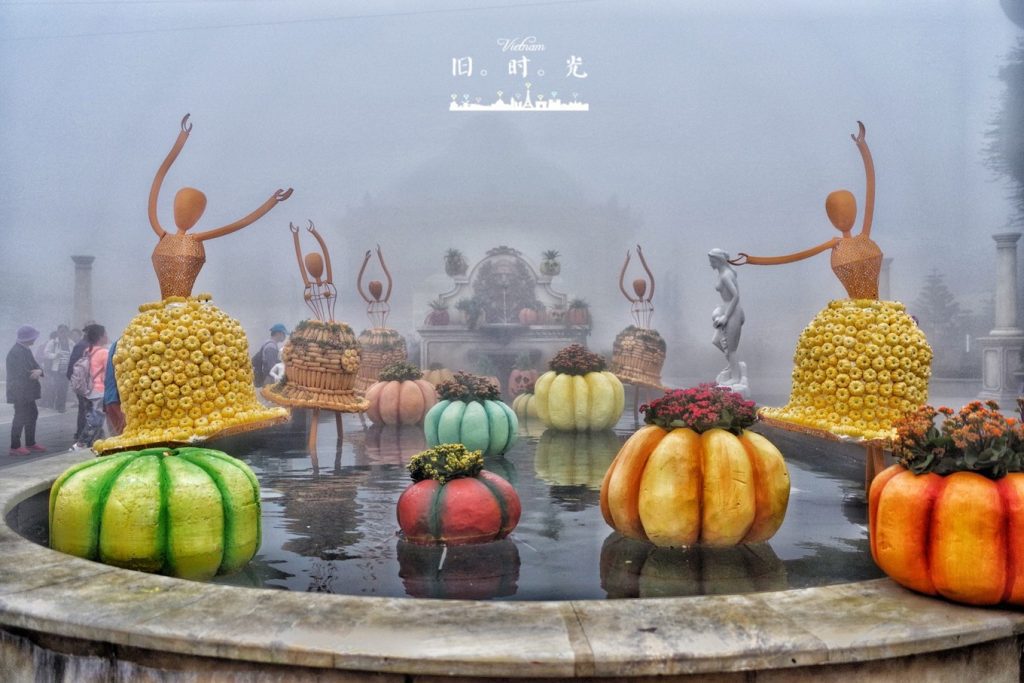 Wandering in the village, I felt as if I was in Europe. Because of the romantic atmosphere, many couples shot their wedding photos in Bana Hills.
We settled our lunch in Lavande restaurant which is a buffet. It has a good variety of food and is quite reasonably priced.
There is an indoor entertainment park which looks like Lotte World in Korea. Everything is free but you will need to queue up. We were so obsessed with the games stations which truly brought us back to the childhood times.
Without doubts, the most attractive Alpine Coaster had the longest queue and we did not experience it due to the time constraint. But nevertheless, it's still a hell of a good fun.
Overall, we had a great time in Bana Hills and if you visit Danang, do include Bana Hills in your itnerary.