Having been working hard in life, sometimes we should all take a break during the weekends and have a good brunch with your loved ones or friends in a simple cafe. Life is short, so treasure all the quality time you have! Located in Serangoon Gardens, Arbite is one of the cafes that comes to my mind whenever I crave for a good brunch.
The first step might be the hardest, but what awaits you is a warm smile and uncomplicated fare. Bring dining back to basis, good food and great company. Because you deserve it. Work hard, live well – Marc
Getting to Arbite
Address: 66A Serangoon Garden Way, Singapore 555962
Telephone Number: 94563807
https://www.arbite.com.sg/contact

Arbite is located in Serangoon Gardens which is more well-known for its Chomp Chomp Food Centre. You can find Arbite just along the stretch of shophouses opposite the bus stop. At around 10 plus in the morning, Arbite is already full with customers which seem to be regular patrons living nearby in the neighborhood. It's quite a small cafe with a simple and clean interior look.
There is a reason why it is called Arbite. Arbite [pronounced as ahr-bahyt] noun ~ A pun on the German/Danish word for work (arbeit/arbejde). Inspired by Europe but rooted in Singapore. An intrinsic honesty to the word. This permeates everything that we do and serve. E.g.: quality food and drink, warm service, fair prices.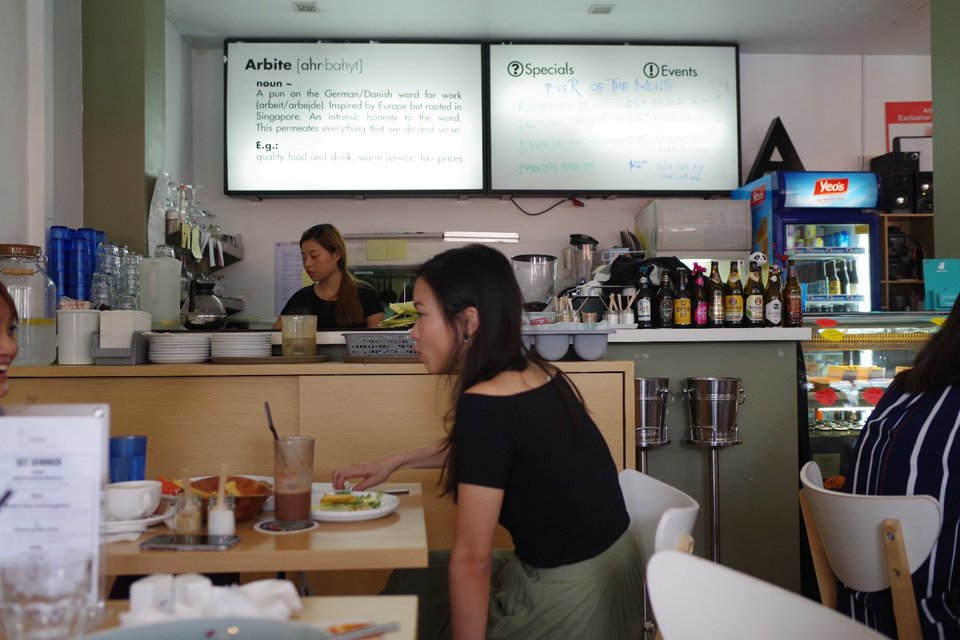 In addition to their brunch (Early Bites) menu, it also has the usual casual dining dishes like pastas, burgers, meats, and salads etc. You can see their full menu here.
Arbite Breakfast
This is the English breakfast set which is a great choice to get your required calories to kick start your day. It consists of scrambled eggs, bacon, roasted chickpea, tomato and basil salad, pork cumberland sausage, sautéed locally farmed mushrooms, toasted brioche and pommes noisettes. What is interesting is that there is a small bottle of kaya and butter for your bread. Pretty localized?
Duck & Eggs
Duck & Eggs is another dish that caught my attention. You get poached eggs, duck rillette, mushrooms, hollandaise, on a freshly baked croissant and fresh greens. The poached eggs are well cooked and the slightest poke gets the yellowish orange yolk gushing out. It's a great combination with the baked croissant.
Arbite Freeze (Lychee)
This is great for a hot sunny day! There are two fresh lychees that come with the Arbite Freeze. My tip to you is to eat the lychees first as I got a hard time trying to get my lychees into my mouth with a just straw when I finished the freeze. It will be good it there's a stick or toothpick!
Quality of Food -

7/10

Customer Service -

7/10

Value for Money -

6.5/10

Atmosphere -

6.5/10
Summary
The early bites menu in Arbite is affordably priced. Though the cafe quite small and packed, the quality of food and the customer service is good. It's a typical cafe that offers simple and nice brunch. Arbite is definitely one of the cafes that I will re-visit.