Flying can be tiring, dragging, and exhausting, especially when you are traveling in a small aircraft that has fewer legroom space. It becomes for you to adjust with the seating arrangements and survive a long-haul flight.
These days, traveling on flights have become difficult with the increasing number of people boarding the flights for their travel journey. As most of the people nowadays are living a luxury life and with airline services cutting their cost of the tickets, the travel in flights are becoming cheaper day by day.
There many platforms that help you book your flight tickets with ease like Faremart.com, which has access to over 450+airlines and provides full support and assistance to all the travelers seeking travel help.
While it's becoming easier for you to find cheap flights, it's quite harder for you to find comfort in the flights.
As per reports are concerned, there are about 2.7 million passengers who fly every day on different flights to various countries and states.
But, if you love to travel to different places on flights, then it's essential for you to make your flight journey peaceful and comfortable, irrespective of the size of the airplanes.
The fact that traveling by air is an inevitable segment of your journey let's help you to make your flight comfortable by providing you with some interesting tips and tricks.
Here are some of the best hacks that you can opt for during your flight journey and make yourself comfortable:
Spend a good amount of time in picking your favorite seat
We all are aware of the legroom space that every flight offer, it's essential for you to select the best place depending on the travel time so that you can sit and rest comfortably.
While you are choosing the seat, it's recommended that you opt for the position that is nearer to the wings of the planes or near to the center of the gravity of aircraft because these locations experience less turbulence.
Eat light before you board the flight
Most of the people often feel nausea once they board the flight because of various obvious reasons, especially for the ones who are boarding the flight for the first time.
There are lots of changes that you will have to make before you board the flight so that you don't feel nausea or vomiting complications during your flight journey.
Some people experience gastric issues when they are flying. In order to have a comfortable flight, you can have light foods such as beans, broccoli, apricots, fruits, salads, etc. that helps in maintaining proper food balance within your body.
Dress strategically
Dresses are the key factor that you must consider in order to fly comfortably.
The fact that the atmosphere within the flight changes from time to time, which means you cannot determine that when you will start feeling hot or cold; therefore it's essential for you to dress strategically.
It's advised that you wear clothing that you can easily remove. You can wear sweatshirts, cotton shirts, free-sized t-shirts, etc. so that you can easily remove it whenever necessary.
Avoid wearing woolen clothes, other tight-fitting attire, etc. which doesn't provide comfort to you when you are flying.
Wear comfortable shoes
When you are flying, try to wear shoes that provide comfort. Don't wear high heels or any other clunky boots which are not quite comfortable.
Try to put on shoes or slippers that you can slip on or off whenever you want.
As the seating arrangements in the flights are quite clumsy, it's important for you to wear shoes or slippers that can be taken out with ease.
So, once the flight takes off, you can easily take the shoes off and sit the way you want.
Carry Earplugs
Flights are known for their noisy atmosphere and chatty passengers. You can carry earphones with you and put it on listening to your favorite music or playlists.
Simultaneously, you can watch your favorite tv shows, movies, or videos putting your headphones or earphones on so that you don't disturb others who are sitting beside you.
The best part of carrying headphones or earplugs are you can create your own space, put it on, and go to sleep. If you don't have one, then you can buy one in the airport or a nearby store. Try to opt for the best ones that have good quality and sound.
Check-in Early
If you want to avoid stress, then it's recommended to check-in early than the usual time.
This allows you to avoid the fear of missing your flight or not getting the seat that you want.
You can also check-in online before heading to the airport so that you can save some time of yours and avoid standing in the queue.
You can also pick the seat that you want if you are checking in early or via online.
For example, if you are flying in United Airlines flight, then you can go through the United Airline's flight reservations or contact the customer service to understand how to check-in online and pick your favorite seat.
Hydrate
When you are traveling by air, it's essential for you to keep yourself well hydrated.
Try to avoid tea and coffee, or even soda that contains caffeine, sugar, or any other chemical components.
These components can make you feel tired, exhausted, and dried out when you are sitting in the flight.
Humidity levels go higher by about 10 to 20 percent as you go up in the air, so it's essential for you to keep your body temperate normal or low by keeping yourselves hydrated.
Empty pockets
When you are trying to sit comfortably in your seat, the last thing that you want is heavy pockets.
Try to unload all the items that you have in your pocket so that you can sit comfortably and peacefully.
If you are carrying your wallet in your pocket, then within the flight journey, you can keep the wallet in your carry bag. This will help you to sit comfortably, forgetting everything that is going on around you.
Use the pillow or the blanket that you are carrying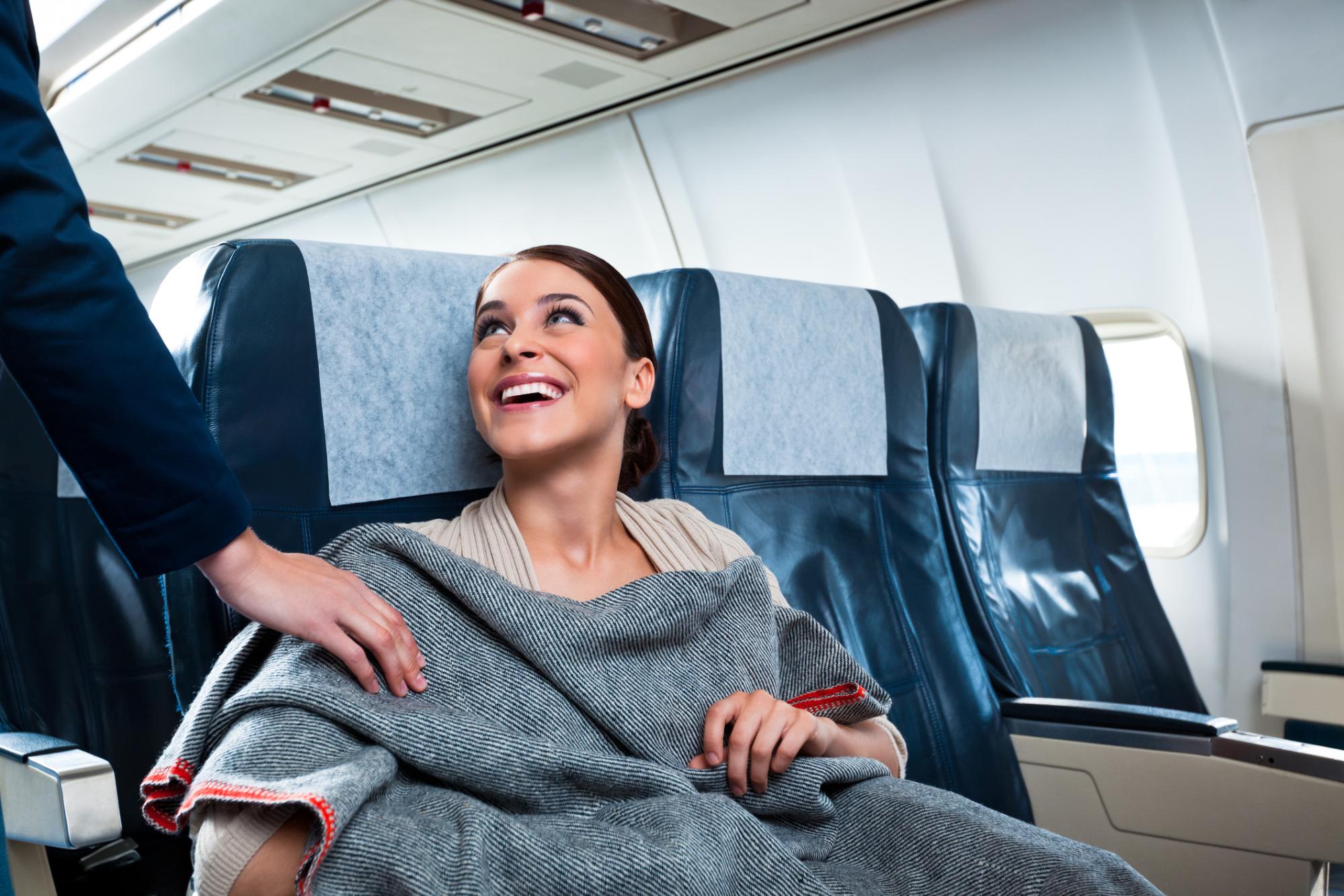 One of the best things to do in the flight if you want to make them comfortable is to sleep properly.
Sleeping not only helps you in relaxing but also helps you in having a comfortable journey.
Try to carry a beck pillow or a sweatshirt along with you so that you can roll it up and rest your head peacefully.
Move within the plane
While you can take naps comfortably, you can also move around the aircraft so that you can relax a bit.
If you have a long-haul flight, then it's essential for you to get up from your seat after seating for a long time.
You can try to make simple movements to avoid getting any sort of venous thrombosis disorder.
Moving around the flight increases the circulation of blood as you can flex your toes, fingers, and other body parts after sitting for a long time.
These are some of the best ways that you can make your flight journey comfortable.
If you are going on a trip, then it's essential for you to make the most out of journey at all the stages, and the flight is one amongst them in your list.